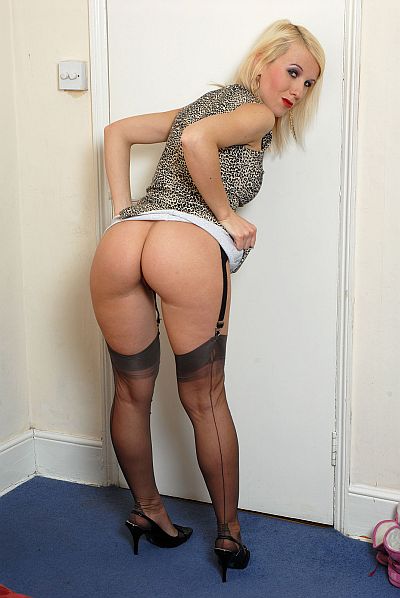 Evey returns home all sexed up after a walk in the park, strips off and masturbates in her nylons and suspenders in this movie from Vintage Flash.
Evey had been out for a walk in the park, hoping she would pickup a guy and take him home for a fuck. She had deliberately worn a skin tight leopard print dress, sexy black bra, suspender garterbelt and seamed nylon stockings to attract attention and make it clear she was up for some action.
Evey had chosen to visit the park during lunch hour, as she knew there would be lots of office guys taking their break on the park benches.
She sauntered through the park, swinging her hips so her ass moved from side to side in her tight dress, making sure her heels clicked on the path and she walked along. She looked a stunning figure in her leopard print dress and high heels as she meandered down the pathway, quite unmissable.
As she paraded past the rows of office workers eating their sandwiches, she could feel their eyes following her as she passed. Her sexy stockinged legs in high heels were totally galvanizing, capturing the attention of every male in the park. She smiled as she felt their eyes follow her contours, and the line of her seamed nylons running up the back of her stockinged legs.
Most of the workers sat in the park were average looking, but there was one guy who was particularly handsome that she caught site of sitting on one of the benches. She noticed him admiring her legs as she approached and made even more of an effort to make her ass move seductively. Then as she walked by he looked up and smiled back, but that was the end of it. She was rather hoping he would say something and engage her in conversation, but it was not to be, at least on this occasion.
After the lunch hour was over, Evey returned home feeling decidedly horny and thinking about the guy she had seen in the park. Just to think, he could be with her right now feeling up her thighs and putting his hands down her stocking tops, sticking his fingers up her wet slit and pulling her tits out of the top of her dress. The thought of it made her feel even more turned on, she could just do with having a big cock to play with right now!
Remember, next time you unexpectedly see some ravishing female in stockings pass you by, make sure you strike up a conversation and let her know you appreciate her legs in nylons. You never know where it might lead..
Watch Evey return home, strip down to her vintage sheer nylons and garters, feel up her stockinged legs then masturbate in this movie from Vintage Flash.
Get our superb Vintage Flash newsletter each week - all the latest model info, updates, set preview pics and more!