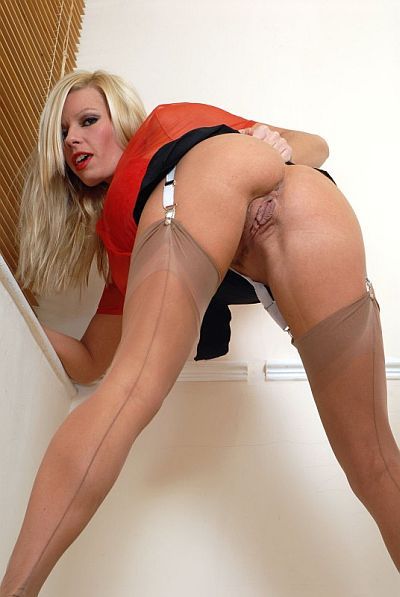 Michelle Thorne is dressed to thrill wearing a slinky tight pencil skirt, ff-nylon stockings and spikey red fuck me heels in our latest movie at Vintage Flash.
Michelle's see-through red nylon blouse barely contain her lush assets, and that tight pencil skirt makes her ass look so tempting as she, stands and teases us on the top stair landing.
Caressing her tits through her blouse and bending so she can run her hands up her stockinged legs, Michelle tells us just how much she wants to tease and turn us on.
Michelle is wearing no panties, and as she stands with legs apart we get a good look under her skirt at her naked pussy, and enjoy close up views of her tan seamed nylon stockings.
Opening her blouse, Michelle reveals she is wearing a red bra and her huge tits are almost busting out of their confinement. She lifts her arms above her head and runs her hands through her blond hair so her breasts are more pronounced, then she totally removes the blouse.
Seductively swaying her hips, Michelle undoes the buckle of her belt and unzips the side of her skirt, pulling it down and over the rounded cheeks of her fabulous behind.
She pauses with the skirt pulled tight across her thighs and ass, then leans forward and pushes her naked buttocks out towards us in a provocative display of wantonness.
The suspender straps of her white vintage garterbelt stretch around the globes of her splendid ass, framing the shaven pudenda hidden in the cleft of her upper thighs between her buttocks.
Standing with legs apart in her vintage fully-fashioned nylons, we get a close up view of her tempting naked pussy. Michelle looks back over her shoulder and says, 'I bet you'd like to fuck me from behind, like this? Slide your cock in there!'
Michelle then gets down of the floor, and with her stockinged legs wide open she sinks her fingers into her pussy and frigs herself off. She gives great close up views of her puckered asshole and shaven cunt as she climaxes at the close of this movie.
Download this latest movie of Michelle Thorne, teasing, stripping and masturbating here at Vintage Flash.
More nylons movies next week..
Get our superb Vintage Flash newsletter each week - all the latest model info, updates, set preview pics and more!