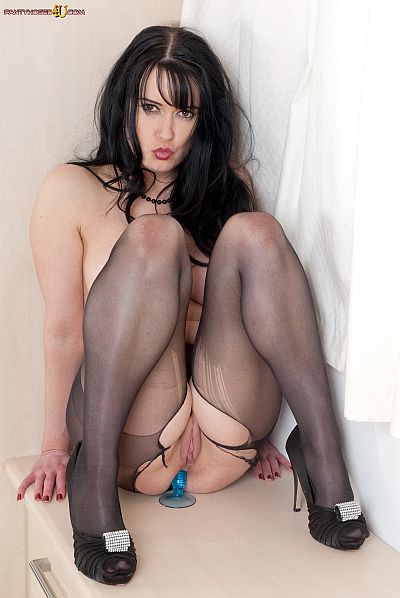 Tanya Cox admits she loves having things stuck up her ass, especially when she's wearing pantyhose!
'I could have something stuck up my arse right now, for all you know,' said Tanya, sitting on the window dresser with her pantyhosed legs apart so I could just see up her mini-dress.
When Tanya stood up and turned around to give me a review view of her lovely hose, I noticed she had a butt plug inserted up her ass, held in place by the seat of her pantyhose.
'I like sticking my fingers up my ass, because it's really naughty and makes me feel horny,' she said, squatting down so I could see the butt plug and her juicy cunt through the gusset of her tights.
Spreading her legs, Tanya put her hands inside her tights to open the lips of her pink pussy which glistened with her wet juices.
'Go on look right in my cunt,' she said, holding her pussy lips open behind the nylon screen of her pantyhose as I got in closer for a better look. 'I love it when you stick you head right between my legs!'
With a butt plug up her ass and fingers up her cunt, Tanya talked real filthy as she masturbated in her pantyhose, then sucked her fingers clean of her sticky juices.
Tanya then dug her fingernails into the crotch of her pantyhose and ripped it apart, widening the hole so it stretched over her naked rear.
Wanking on her knees with her ass exposed through the hole in her torn tights, Tanya fucked her ass with her butt plug, while she orgasmed with several fingers stuck up her hot pussy.
Get our superb Vintage Flash newsletter each week - all the latest model info, updates, set preview pics and more!