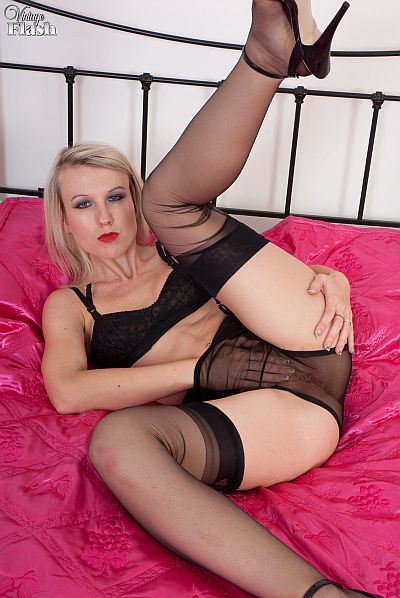 CLICK HERE TO SEE TRAILER OF EVEY MASTURBATING IN NYLON
'Hello, baby. I'm feeling really horny today. I've put on this sexy black underwear. I hope you like it, it's one of my favourite sets'.
You know you've scored when Evey invites you to have a look at what she is wearing. Here the fun begins…
Dressed in classic black underwear – bra, panties, garter belt and fully fashioned nylons, Evey has made the effort to dress just for you!
Get a good look at her sexy ass in those sheer nylon see-through panties as she runs her hand over her rounded globes.
Observe the super sexy shape of her legs in seamed black stockings as she bends and slowly moves her hands up the back seams to the tops of her nylons.
Evey is very accommodating to your wants and needs, unmistakeably dressed to thrill, and undeniably totally horny! She is waiting for you to join her in the bedroom for some very naughty fun… just you and her together!
See Evey in this (136 image) photo set, then watch her tease and masturbate in her full length video 'Nyloned, Gartered and Horny' at Vintage Flash.
Get our superb Vintage Flash newsletter each week - all the latest model info, updates, set preview pics and more!