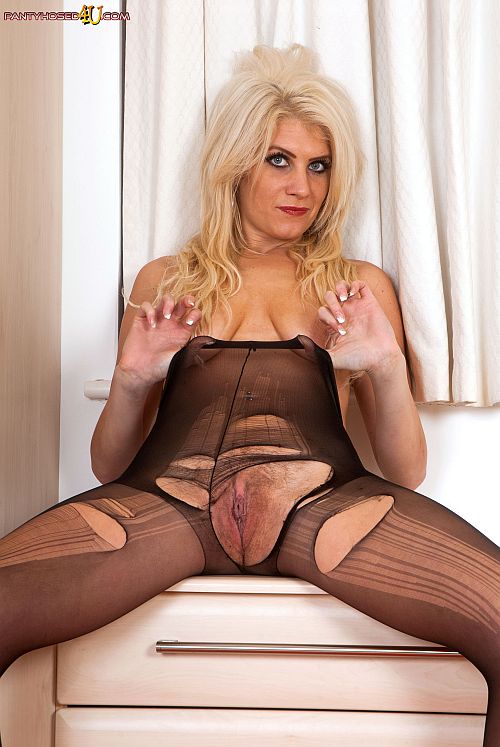 'I just love wearing my pantyhose,' Bianca said, lifting up the edge of her new dress and caressing her slender legs in black pantyhose and stiletto heels. 'Look how tight they are around my legs. They make me feel so horny, my pussy's starting to get really wet.'
Bianca went over to the dresser and sitting on the tops of it, she opened her legs so I could see right up her dress. 'I just love the feel of my pussy underneath these pantyhose,' she said, pushing her hands down the front of her tights to feel her thighs and around the area of her pussy. 'I bet you'd just like to rip them open and fuck me, wouldn't you?' She added, now bending over and moving her hands inside the rear of her hose and over the cheeks of her arse. 'I'm such a dirty little bitch, aren't I?
Bianca stood facing me and pulled the waist of her pantyhose upwards so they were stretched high up her waist; the long dark seam pulling tight around her cunt with it's trimmed pubic hair, which was visible through the sheer nylon. She slipped her hand down the front of her hose and fingered the lips of her fleshy pussy, which glistened with her juices behind the sheer nylon screen of her pantyhose, saying, 'Keep wanking your cock I'd like to see you spunk everywhere, I'd love to have your spunk all over my tights!'
Bianca masturbated with her hand and fingers deep inside her pantyhose and made herself cum, then tore open the crotch with her long fingernails. She ripped her hose apart and created holes in the fabric so the ladders ran down her thighs, exposing the fleshy lips of her pussy now free of their tight covering of nylon.
Bianca then got down on the floor and inserting a vibrator up her hot cunt she masturbated like a dirty slut and orgasmed in her sexy, shredded tights.
Get our superb Vintage Flash newsletter each week - all the latest model info, updates, set preview pics and more!