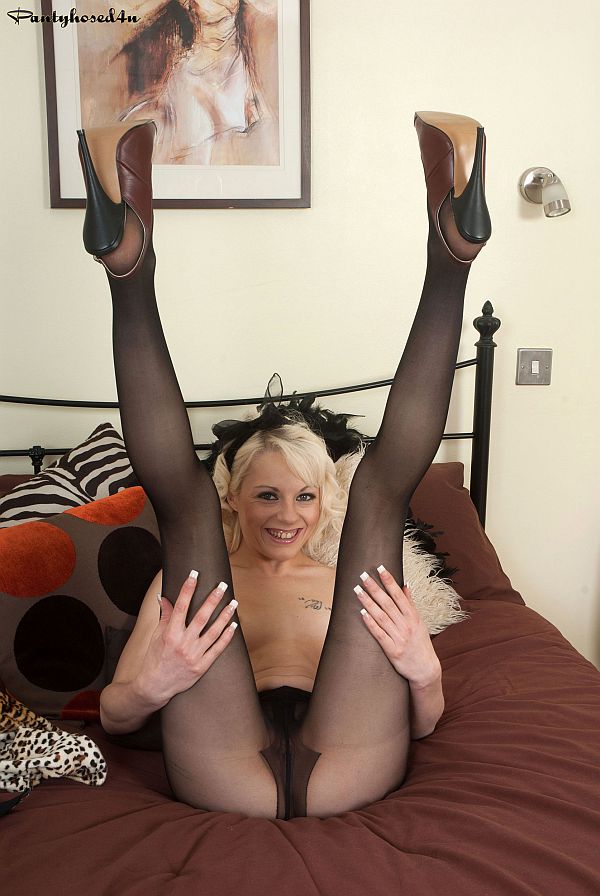 'Hello there, I'm glad you've finally come to see me. I've been waiting here all day for you in my sexy nylon pantyhose,' April says, as she sits on the bed and drags her fingernails over the surface of black clingy nylon that covers her slender, pantyhosed legs.
'Are you going to have a bit of a play with me today?' She asks, getting up and bending over to tease you with views of her pert little arse sheathed in shiny black nylon, then sliding her hands up the back of her nyloned legs from ankles to thighs and buttocks.
'I just love that feeling of nylon against my hot, wet pussy,' she continues, laying on the bed with her legs open and rubbing her fingers over the thick, black seam running up the center of her pantyhose crotch that covers her nyloned cunt.
April sweeps her hand between her thighs and over the valley of her nyloned pussy, then tugs on the front of her hose so they are pulled tight against the juicy lips which are squashed behind the layer of her sheer pantyhose.
Sliding her hand down the front of her hose, she spreads her cunt open to show the moist pink hole glistening with wetness behind the sheer nylon mesh of her pantyhose screen. She then inserts several fingers between the lips her cunt and they make wet sucking sounds as she rapidly frigs her moist hole with her hand down her sexy nylon tights.
Being a dirty little bitch, she gets on her knees and rips the ass of her pantyhose to shreds so the laddered nylon frames the puckered ring of her arse and pussy. Then laying back she thrusts her gold vibro deep inside her sopping wet cunt and encourages you to cum with her as she masturbates to climax.
Get our superb Vintage Flash newsletter each week - all the latest model info, updates, set preview pics and more!