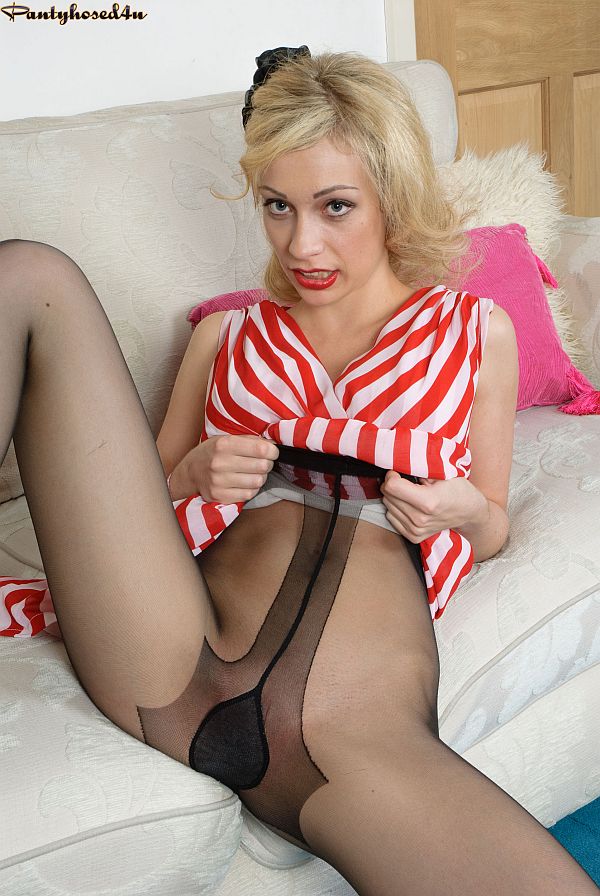 Chessie has been at a garden party where she became very aroused while flirting and showing off her elegant legs and tight bum in sheer black pantyhose. Her pussy felt all a tingle and got very wet, making the gusset of her pantyhose moist with her juices.
'Seeing as you're here, I'd like you to get that cock out and start wanking it for me, because that would turn me on even more,' Chessie says, lifting her dress to show you that she's not wearing any panties under her black, sheer nylon pantyhose clinging around the mound of her shaved pussy.
'Do you know, when I was walking around, I could feel my pantyhose were getting right between my pussy lips, giving me a bit of a "wedgie",' she says, letting you know about how hot and sexy that cameltoe felt around her nyloned cunt. 'It was really turning me on, do you want to see?'
Chessie opens her legs and stretches her pantyhose up her front so they are pulled tight around her pussy. Then she grinds her hips in a lascivious way, taking pleasure in the sensation of the taut nylon straining against her cunt.
Writhing on the sofa she encourages you to wank your cock as her fingers rub against the opaque black gusset patch covering her pussy. Then pushes her hands down the front of her hose and spreads the lips of her cunt wide open for you and talks about how she'd like you cock inside her right now.
She describes how she'd like to rub her moist, pantyhose crotch over your face so you can taste her pussy through the damp nylon. Or have you get behind her and rub your cock over the seat of her tights, then push it against the puckered ring of her bum hole and fuck her through it.
Chessie is a real dirty bitch and invites you to wank all over her fabulous body, cunt and ass as she masturbates to climax in her layer of sheer nylon pantyhose .
Get our superb Vintage Flash newsletter each week - all the latest model info, updates, set preview pics and more!