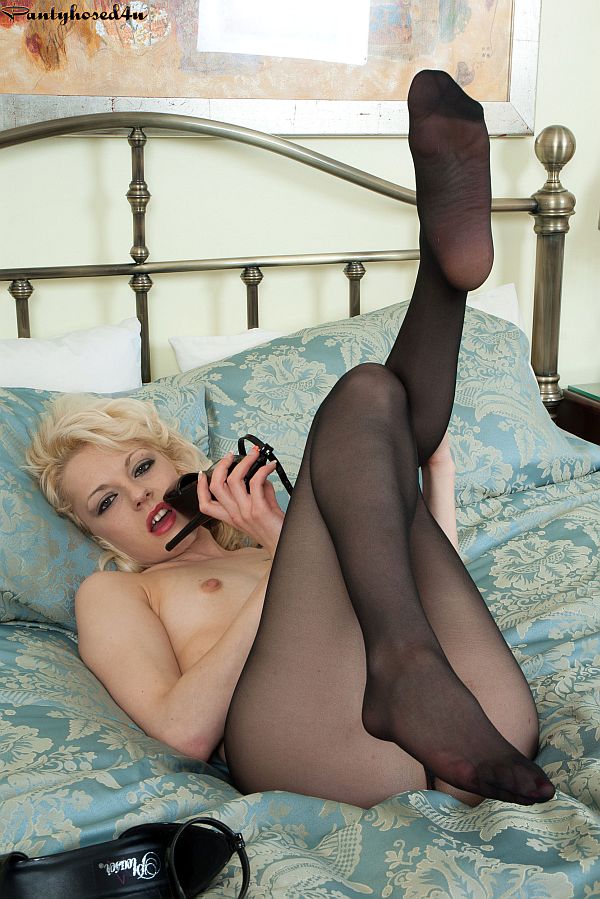 April has caught you in her bedroom and realizes you've been looking through her pantyhose draw.
'If you wanted to see some, why didn't you just ask? I could have shown you the one's I've got on.' April says, lifting up the front of her satin dress and turning around to show you her petite ass encased in black sheer nylon.
'Why don't we have some fun then, come on, get your cock out!' Suggests your saucy pantyhosed teen as she lays down on the bed and beckons you to come closer.
April lays back and moves her hands over the inside of her thighs, sweeping them across her pantyhose crotch and down her slender legs in their layer of clingy nylon. She playfully plucks on the nylon of her hose and lets it snap back against her thighs, then seductively drags the tips of her fingers up the length of her nyloned legs.
'I bet you wish you could have your hands inside here,' she says, pushing her hands down the inside of her hose and moving them behind the sheer nylon mesh as she squeezes her skinny buttocks together.
'Do you like the sound of ripping nylon?' She inquires, now laying back with her legs open as she stretches the front of her tights around her pussy, adding, 'would you like me to show you?' Then digging her fingernails into the crotch of her pantyhose she rips them open, causing them to break and ladder as she shreds the delicate nylon with her fingers.
April continues to tear up her hose, her fingers picking at the fine layer of nylon and making the ladders run down her legs as she revels in ruining her tights.
'That's it, you need to come all over my ripped nylon pantyhose,' April says, as her fingers rub the pink, fleshy lips of her pussy through the laddered hole of her devastated pantyhose gusset.
Flinging her legs wide open gives you a view of her hot pussy and the puckered ring of her ass as she masturbates, her hand increasing in rhythm as her pleasure builds and she reaches an intense orgasmic climax.
Get our superb Vintage Flash newsletter each week - all the latest model info, updates, set preview pics and more!