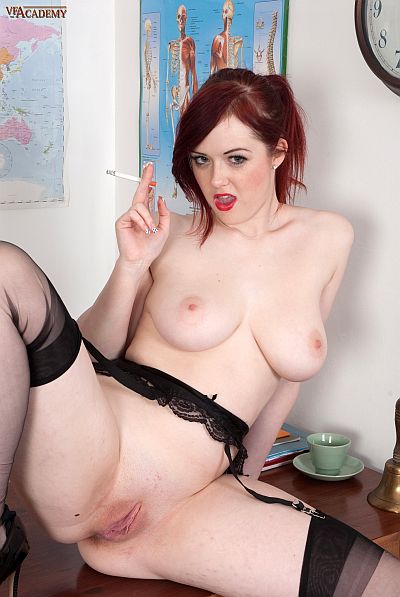 Jay had been caught smoking behind the bike sheds and sent to sit on her own in the detention room as a punishment.
Fortunately, our randy janitor turned up to keep her company and brought along his video camera as usual; as he never misses an opportunity to meet the naughty girls in detention. 😉
Jay was gagging to smoke a cigarette, so she offered to show the janitor her panties, stockings and suspenders, in exchange for his silence about her smoking activities.
Stripping off her red tartan tunic, Jay opened her white blouse to reveal she was wearing a very sexy black see-through bra, which matched her sheer nylon panties.
'I can't help it, being a naughty girl,' Jay said, as she sat on the teacher's desk and removed her knickers to play with the soft wet slit of her teenage pussy.
Jay then lit up a cigarette and sat with her stockinged legs open, puffing away on her smoke as she diddled her pink pudenda with her fingers.
She then placed her lighted cigarette between the lips of her pouting pussy, causing the smoke to puff from the end of her ciggy as she vigorously rubbed the hot button of her clitoris.
Jay worked up to her orgasm, slapping several fingers up her sticky wet fuck hole while she smoked and wanked her cunt at the same time.
Get our superb Vintage Flash newsletter each week - all the latest model info, updates, set preview pics and more!