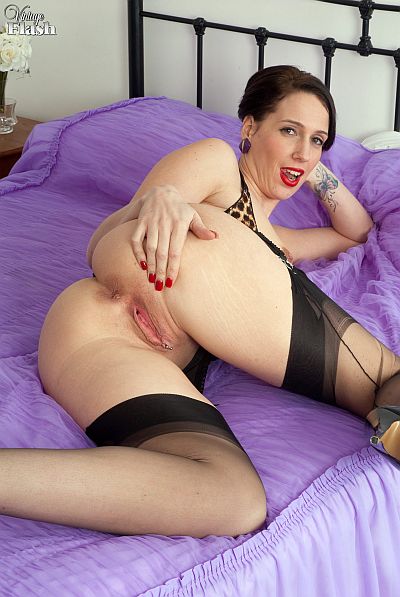 'Do you like my full-fashioned sexy nylons I have on for you?' Tammy asks as she lays on the bed and shows off her long legs in sheer stockings and patent leather heels. 'I have on your favorite ones, with the sexy black seam running up the back'.
Tammy has been waiting in anticipation of your arrival home, and is looking forward to you giving her a good fucking in her sexy black nylon stockings.
Wearing a sexy cut-off girdle right underneath her dress, Tammy lets you know she doesn't have any panties on either, as she wants to make access to her pussy as easy as possible.
Pulling up her skirt she lays back with legs open and rubs her cunt with the soft silk of her neck scarf. Tammy then asks you to get your cock out and wank it while she shows you her shaven pussy; suggesting you put your tongue up her sticky cunthole and give it a good lick.
'Whisper in my ear and say you want to fuck me', Tammy says, spreading the pink fleshy lips of her labia and holding them apart in invitation. 'Tell me how you want to stick your cock inside my pussy and fuck me hard.'
Kneeling on the bed with her girdled ass raised up high, she spreads the cheeks of her fabulous arse and invites you to give it a clean with your tongue.
Tammy then masturbates with her finger up her asshole, saying how much she wants your cock up her arse as she reaches her first climax.
Get our superb Vintage Flash newsletter each week - all the latest model info, updates, set preview pics and more!