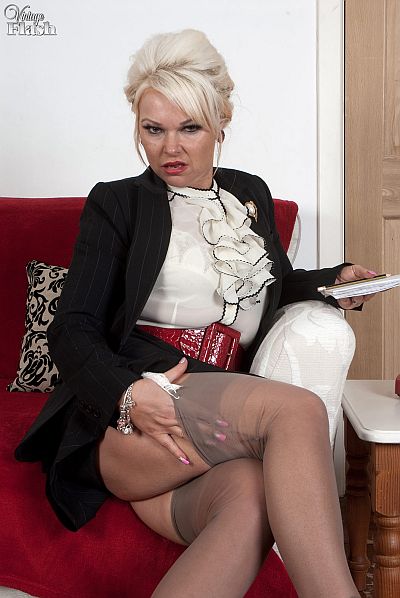 Randy ladies of a more mature age can be very assertive when wanting sex, and dirty old bitch Candy made it known she was up for it when she came to give me an estimate on some interior decorating that needed doing.
I could tell Candy was dirty bitch just by the way she was dressed in a tight skirt, seamed stockings and heels. The skirt had a split in the side that went up to her thigh, so that when she moved it gave me a glimpse of her suspenders attached to the top of her nylon stockings.
As she surveyed the house she noticed all of my camera equipment and lighting, and asked if I was a professional photographer. I told her I shot nylon glamour videos for my site vintageflash.com and she said she'd always fancied being videoed for a porn site.
I suggested I could do a video of her for the site, as we are always looking for new faces, especially amateur models with good legs, and real life ladies who wear full-fashioned nylons and high heels.
Candy was delighted with this proposition, and as soon as I had the equipment set up she got into her role, basically playing herself.
She soon stripped off her skirt and got down to masturbating on the couch in her stockings, pulling her panties to one side so she could bury her fingers deep in her hot wet pussy.
Candy proved to be a real dirty bitch alright, talking filthy all the time, sticking three fingers up her butt-hole and several others up her cunt as she brought herself off to a satisfying climax.
See dirty slut Candy wanking in her seamed nylon stockings and suspenders in her (152 image) photo set and 16 minute video – 'Sales Pitch For Sex'.
Get our superb Vintage Flash newsletter each week - all the latest model info, updates, set preview pics and more!