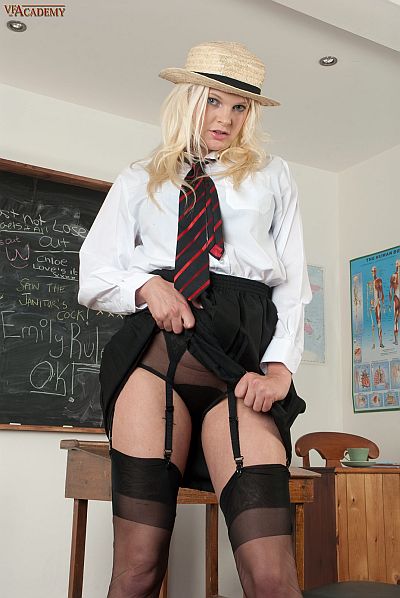 Busty blonde teen Kelly has the hots for the academy handyman having seen him mowing the playing field with his top off, so she sends him a love note asking him to meet her in the classroom after hours.
Kelly is so pleased he turned up because she wants to show him what she's got under her uniform.
'I think you should get your cock out and wank it firmly, while I give you a teasing show,' Kelly suggests.
Sitting in the chair with her legs crossed, she lifts the hem of her skirt and shows off her suspenders attached to the black welt of her nylon stocking tops.
Feeling her breasts swelling against the front of her tight cotton blouse, Kelly undoes the buttons and reveals she is wearing a black lacy bra.
She then ties the loose ends of her blouse together under her boobs, uplifting and emphasizing the shape of her big tits supported by her sexy lace bra.
Kelly then tells the handyman what she wants him to do to her as she poses in her panties, stockings and suspenders on the teacher's desk.
Then removing her skirt, she bends to give a rear view as she pulls her black knickers down, dipping her fingers into her pussy so she can taste her own juices.
Kelly then finds her jello-vibe and uses it to masturbate, getting into a variety of positions on the desk so you can see the cock like object filling her pussy as she wanks herself off to a hot climax.
See Kelly masturbating in black nylon stockings and suspenders in her (205 image) photo set and 15 minute video 'Handyman Desires'.
Get our superb Vintage Flash newsletter each week - all the latest model info, updates, set preview pics and more!