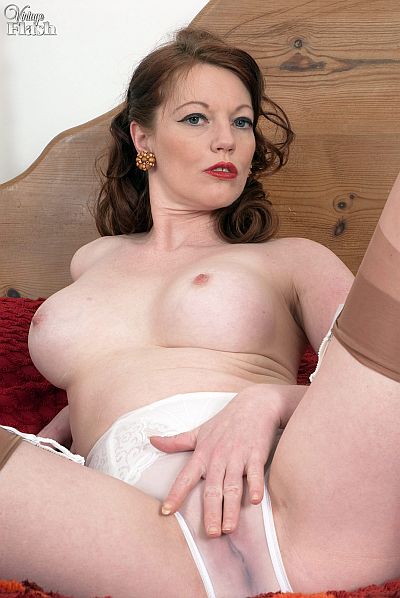 MS Holly Kiss is just back from her diners club this evening, and she was rather hoping she'd find some suitable gentleman to take her round the back and give her a damned good shagging.
Unfortunately Holly didn't find anyone who was up for it, even though she went there looking absolutely fabulous in her fur trimmed jacket, tight black pencil skirt, seamed nylon stockings and high heels.
'You know when a lady goes to all this trouble, it's no good when there's no one decent there,' she says. 'I should have taken you, but never mind I'm sure we can have some lovely fun together'.
Wearing full-fashioned nylon stockings and white lacy garterbelt has left Holly feeling decidedly randy, so she invites you to watch as she stripteases out of her clothes to put on a fine legshow in her seamed nylons and heels.
Stripping off her sheer nylon panties, Holly holds them close to your face so you can get a good whiff of her pussy scent to turn you on and drive you wild!
Then Holly lays back on the bed and with stockinged legs apart, she digs her fingers deep in her pussy and masturbates to an intense orgasm. Holding her cunt wide open, Holly then invites you to get down and lick out the juices from her gaping fuck hole.
See Holly Kiss masturbating in her seamed nylon stockings in this (172 image) photo set and 15 minute video –  'Up Close And Personal'.
Get our superb Vintage Flash newsletter each week - all the latest model info, updates, set preview pics and more!