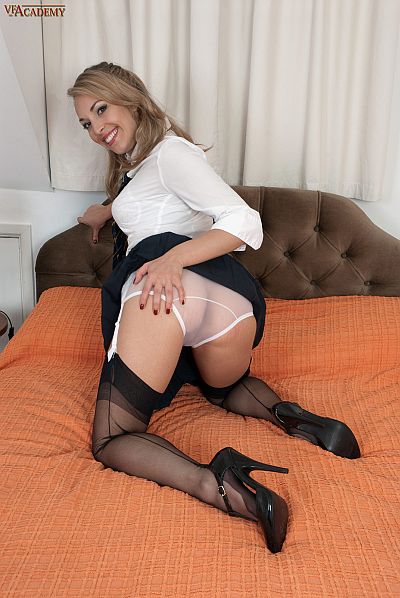 Jessica is looking forward to going back home for the holidays, especially because she has a crush on the guy who is her next door neighbour.
Thinking about how she is going to seduce him with her legs in sexy stockings, Jessica strokes her hands up her seamed black nylons as she thinks about sex.
Jessica kneels on the bed and hikes up her skirt, then sitting with her stockinged legs apart, she runs her hands over the webbing of her suspender belt, touching the mound of her moist cunt through her sheer nylon panties.
As she grinds her hips in a state of sexual arousal, the juicy lips of her pussy appear pink and flushed through the sheer mesh of her delicate white panties.
Jessica clearly enjoys herself for quite some time as she massages her big breasts though the cups of her bra, finally releasing them from their confinement to play with her erect nipples and squeeze her boobs even more.
Stripping out of her skirt, she plays with her ass and pussy through the flimsy material of her see-through panties, eventually sliding her hand down the front and slipping her fingers into the slit of her sticky cunt.
Jessica then works her pussy from the inside of her kickers, her hand slapping against her naked cunt as she vigorously masturbates and climaxes with fingers deep in her hot juicy hole.
See Jessica Pressley stripping off her uniform, then wanking in her stockings and suspenders in this (149 Image) photo set and hi-def video 'Going Home Fantasy'.
Get our superb Vintage Flash newsletter each week - all the latest model info, updates, set preview pics and more!