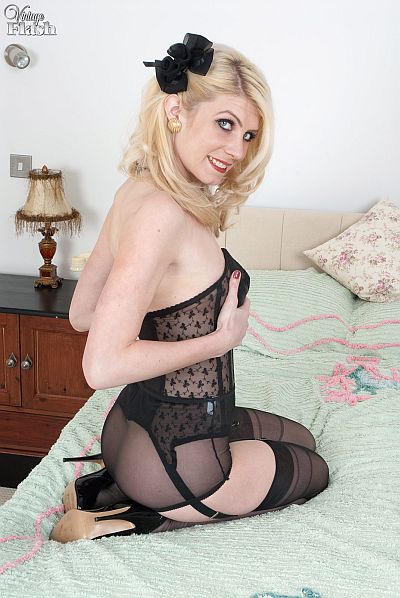 Bianca's husband has not being paying much attention to her sexual needs of late. Even though she has been dressing in short skirts, stockings and heels, he still showed little interest in giving her a fuck.
Feeling a bit neglected, she decided to make a dirty video for her cuckold husband, to show him what she gets up to in a hotel room with the night porter!
Wearing a tight fitting slutty dress, French nylon stockings and 'fuck me heels', Bianca puts on a show for the porter while he videos her doing a striptease.
Bianca makes sure her husband sees everything she is doing for the stranger behind the camera. Lifting her dress to reveal she is wearing a black corset and suspender belt, she spreads her stockinged legs and rubs the damp crotch of her black panties.
'I'm looking forward to having your cock stuck in me later', she says to the porter, as she kneels on the bed with her ass in the air, her pantied pussy framed by the straps of her suspenders pulling at the tops of her nylon stockings.
Bianca describes to her husband everything she is doing as she lays on the bed, showing off her ass and fingering juicy pussy for the lucky porter.
When her husband sees this video, maybe he will take note of the way she gets turned on wearing seamed nylons and lingerie, and enjoy having a good wank looking at his wife being a dirty slut.
See Bianca stripteasing and masturbating in her nylon stockings in this (165 image) photo set and video – 'Look What You Are Missing'.
Get our superb Vintage Flash newsletter each week - all the latest model info, updates, set preview pics and more!