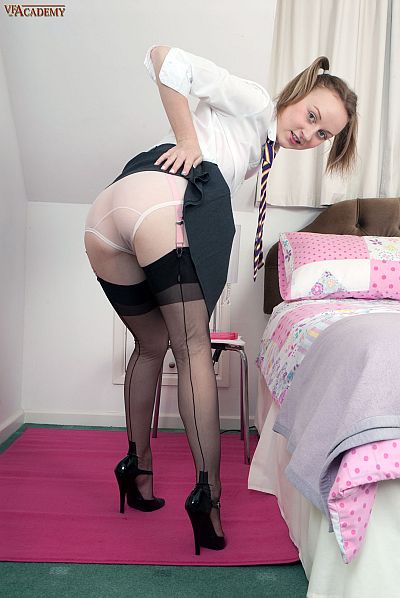 Kiana did not complete her assignment in time, so she was sent to stay in her room while the other girls were allowed out to play sports.
Stuck indoors and feeling very bored, Kiana soon finds a way to amuse herself by masturbating with her vibrator as she lies on the bed.
Our randy janitor sneaked up to Kiana's room to keep her company, and as usual he had brought along his video camera to capture the action.
Kiana lifted her skirt to show him she was wearing pink sheer nylon panties, through which you could see the straps of her hot pink suspender belt stretching down to the tops of her black seamed nylon stockings.
Undoing her blouse, Kiana revealed her matching pink bra and pulled down the cups to play with her soft, puffy nipples of her small breasts.
Sliding her hand down the front of her nylon knickers, she parted the pink lips of her cunt and showed off the jeweled piercings of her pussy that were clearly visible through the sheer fabric of her panties.
Turned on by the feel of her panties against her pussy, and the sensation of silky nylon stockings against her legs, Kiana worked the vibrator up her sticky hole to make herself cum.
Watch Kiana masturbating in stockings and suspenders in her (148 image) photo set and video – 'Making The Best Of It'.
/p>
Get our superb Vintage Flash newsletter each week - all the latest model info, updates, set preview pics and more!