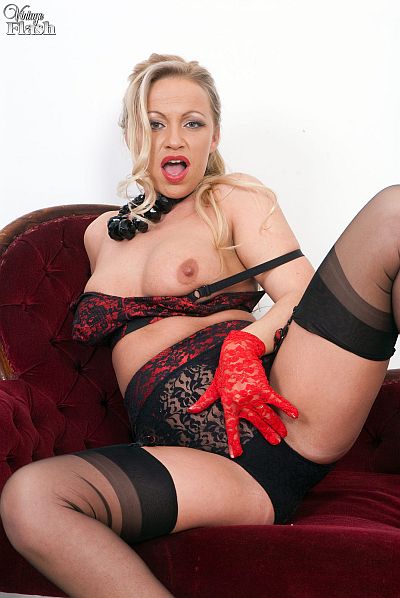 Taylor is ready to go to her Latin dance class, and she tells you off for 'keeping a lady waiting', especially as she's dressed real sexy for you this evening.
Wearing a figure hugging dress with lace frill, Cuban heeled fully-fashioned stockings and black high heels, Taylor looks hot to trot.
'You know how excited I get when I'm wearing them, don't you?' She remarks, smoothing her hands up the length of her legs in those black nylon stockings.
'Let me see what you've got under those trousers, you naughty boy,' she says encouragingly as she notices the bulge in your pants.
'I'd love to wrap my hand around it right now, start stroking it for you,' she adds, moving her lace gloved hand in a wanking motion, as if it was wrapped right around your hard-on.
Taylor slips out of her dress to reveal she is wearing a ravishing red and black lace lingerie bra and suspender belt.
'Look how hard you are. I bet you'd get even harder if you rubbed that cock up and down my nylon stockings.'
Taylor encourages you to release your cock, and offers to suck it as you admire her big titted bullet bra, lacy panties and saucy garter belt.
'You like feeling your cock against the nylon, don't you. It gets me very excited too!' She continues, inviting you to stick your cock down the top of her nylon stockings.
Taylor then opens her nyloned legs and encourages you to join her in mutual masturbation… Will you cum with her?
See Taylor Morgan stripping down to her nylons and heels in this (154 image) photo set, then join in as as she encourages you to jerk off in 'Thrills In Frills' at Vintage Flash.
Get our superb Vintage Flash newsletter each week - all the latest model info, updates, set preview pics and more!