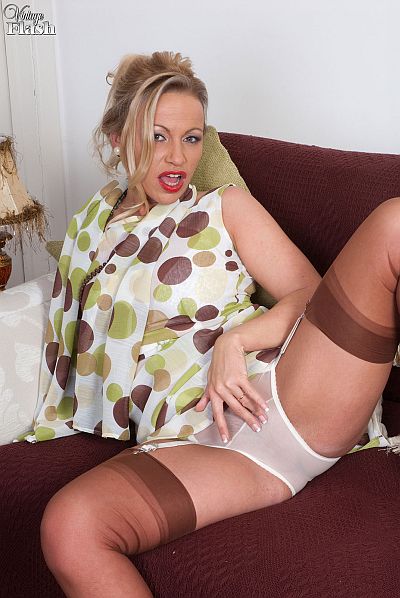 SEE MOVIE TRAILER OF TAYLOR MORGAN MASTURBATING IN STOCKINGS & SUSPENDERS
Taylor went out for a drive in the car, wearing this classic looking dress that's just a bit on the naughty side.
If you look closely you'll be able to see her the outlines of her bra, suspender straps and panties lines through the flimsy see-through material, which is just what Taylor wants you to see…
Taylor got so hot and horny driving around in her open-topped car, with her dress blowing open so her stockings and suspenders were on view to passing drivers of high sided vehicles.
Even through she spotted a few 'lovely chaps, she's decided to come on back home and 'spend some time with you instead'.
Talyor is in the mood to entertain, lifting her dress to show off her stocking tops, then seductively stripping down to the tantalizing underwear you have already glimpsed through her dress.
What's more, she instructs you to 'stroke your cock' as she puts on a lascivious stockings, suspender and pantie show, which concludes with her masturbating in her Harmony Points and heels. Bravo Taylor!
See Taylor Morgan stripteasing and masturbating  in this (161 image) photo set and 15 minute movie 'La Mode Transparent' at Vintage Flash.
Get our superb Vintage Flash newsletter each week - all the latest model info, updates, set preview pics and more!