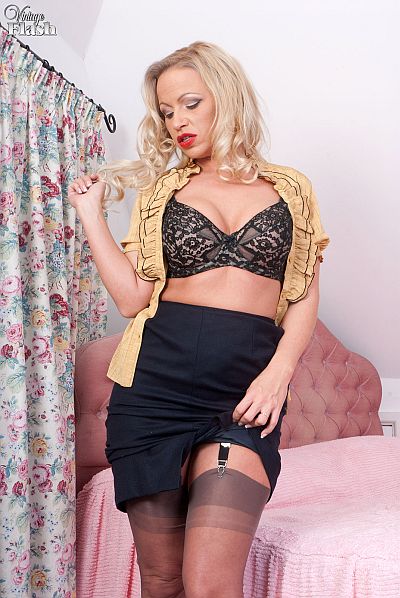 CLICK HERE TO SEE MOVIE TRAILER OF TAYLOR MORGAN MASTURBATING IN HER NYLON STOCKINGS
Taylor has returned home from a rather disappointing first date with some 'young gentleman', and she's feeling rather horny.
She got all dressed up 'ladylike' in blouse, pencil skirt and taupe fully-fashioned nylons and patent leather high heels, but the guy just did not come on to her; or maybe he was just shy of handling a sexually confident woman.
Whatever, he didn't get to find out Taylor's little secret, but she sure is 'going to share it with you!' But what can it be?
'Well, the truth is', she begins, as she sits and lets her skirt ride up an show a bit of stocking top, 'I'm not wearing any panties!'
Taylor then begins a slow and seductive striptease, removing her blouse and skirt to reveal she is wearing a matching lacy lingerie bra and suspender belt, and no panties!
Kneeling on the bed she bends over and spreads her thighs, exposing her naked cunt and ass as her fingers massage her luscious pussy lips.
'That's it, wank your cock hard, now,' she softly encourages, as her hand stokes her firm round arse. 'I want your hard, juicy cock inside me'.
Let Taylor show you just where to put it as she spreads her stockinged legs, opens her hot pink pussy, and slides in her trusty vibrator in this (153 image) photo set and movie, 'Secrets Up My Skirt' at Vintage Flash.
Get our superb Vintage Flash newsletter each week - all the latest model info, updates, set preview pics and more!