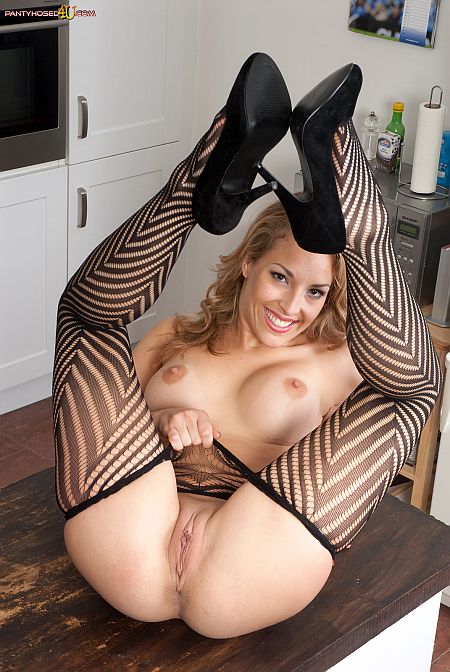 Jessica was so looking forward to going to a party tonight, but had been let down by her date, who was supposed to be her partner at this swinging event.
Having gone to all the trouble of dressing up in her party dress and some super sexy striped pantyhose and heels, Jessica doesn't know what to do with herself and on top of that she's is feeling quite horny.
'I'm glad you're here to watch me play with myself, I'm feeling so naughty,' Jessica says, feeling her boobs through the fabric her silky dress, and running her hands up and down her thighs covered in designer pantyhose.
Lifting her dress she gives a close-up view of her arse encased in tight hose, then rubs her middle finger down the crack of her ass, touching the ring of her butt hole through the sheer nylon fabric.
Jessica seductively runs her hands over her hosed legs from ankles to thighs, making a good show of stroking her shapely legs and buttocks through the tight mesh of her striking patterned hose.
Jessica then climbs onto the kitchen top and massages the juicy lips of her moistened pussy, now squashed behind the tight crotch of her designer pantyhose.
Slipping a vibrator down the front of her hose, she uses the gusset to keep it in place and pulls her legs back so the object slides deep into her gaping cunt.
Jesssica then grabs the vibrator through the fabric of her tights and works it in and out of her sticky love hole; increasing the rhythm of her masturbation until she reaches an intense pantyhose climax.
See Jessica Pressley stripping and masturbating in her hot pantyhose in this (173 image) photo set and video – 'Stripy Strip Strumpet'.
Get our superb Vintage Flash newsletter each week - all the latest model info, updates, set preview pics and more!