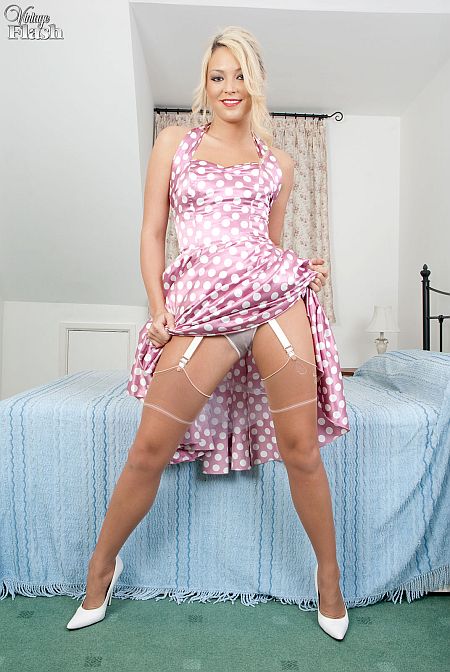 Natalia provides lots of upskirt views of her panties, nylon stockings and suspenders, then strips off to play with her pussy in her latest video at Vintage Flash.
Feeling sexy in her fabulous polka dot dress, Natalia twirled around, raising it just high enough to give glimpses of her sexy stocking tops and suspenders.
In fact she looked quite stunning in her sexy outfit, I thought, and I noticed her pleasure and excitement as she repeatedly lifted her flouncy dress and flashed her underwear at me.
'My legs look gorgeous in these fully-fashioned nylons', Natalia said, admiring her legs in her expensive nylon stockings. 'They feel so soft and silky to the touch, just perfect!'
Natalia then stripped out of her dress to reveal she was wearing a 'merry widow' corset, with long suspender straps that stretched all the way down to the tops of her beautiful nylon stockings.
Laying on the bed she opened her legs and put her hand down the elastic waistband of her pink sheer nylon panties. I could see her fingers moving rapidly behind the nylon mesh of her panties as she vigorously massaged her hot pussy.
Hooking her thumb's in to the waistband of her knickers, she lifted her ass off the bed and pulled them down her stockinged legs, leaving them stretched around her ankles.
Then lifting her legs and heels in the air, Natalia openly fingered the slit of her moistened pussy, her hand making slapping sounds as she worked her fingers up her lubricated love slot.
Natalia then lay on her side so her gorgeous ass, suspendered thighs, and the backseam of her stockings were on full view.
Reaching round the curve of her buttocks, Natalia then stuffed her fingers up her tight cunt hole and made herself orgasm several times over.
See Natalia orgasm as she masturbates in her stockings and suspenders in this (167 image) photo set and hi-def video – 'Dancing Frock Fandango'.
Get our superb Vintage Flash newsletter each week - all the latest model info, updates, set preview pics and more!