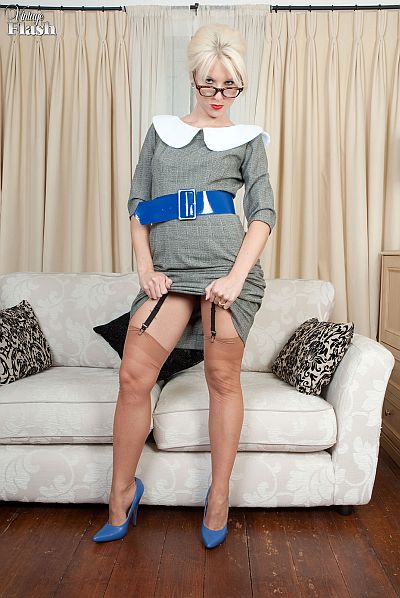 There's something very appealing about girls in glasses, and especially those who wear fully-fashioned nylon stockings and heels, as Evey demonstrates in her latest video at Vintage Flash.
'You probably think I'm some boring bookworm, don't you,' Evey said, looking at me over the rim of her glasses after having found her reading a book. 'Well, I'll just have to prove you wrong!'
Evey slowly lifted up the hem of her demure grey dress, until just the tops of her nylons and the straps of her suspenders were in view.
'You see I can be sexy too, even though I like reading books,' she added, showing me how fabulous her legs looked in seamed stockings and heels. 'So let me prove to you I can be very, very naughty too!'
Evey turned and looked seductively over her shoulder as she undid the long zip on the back of her dress, and let it fall to the floor.
Standing in her a black lacy bra and a matching pair of full cut lace panties, I noticed how sexy the long taut suspenders of her garterbelt looked as they stretched down her thighs to the tops of her nylons.
'I love giving myself some pleasure and it turns me on having you watching me,' Evey remarked, now sitting and masturbating with her hand down the front of her black lace panties. 'That's what I like doing apart from reading books, I just love playing with myself.'
Evey spread her stockinged legs wider as she relaxed into her masturbation, and prised open the lips of her juicy cunt to slip her fingers deep into her throbbing sex.
Increasing the rhythm of her fingers over the hot bud of her clitoris, Evey built up the pleasure in her throbbing pussy until she achieved an orgasm that made her cum hard.
See Ms Evey Krystal strip down to her stockings and suspenders, then masturbate in her (155 Image) photo set and video – 'Bookworm'.
Get our superb Vintage Flash newsletter each week - all the latest model info, updates, set preview pics and more!