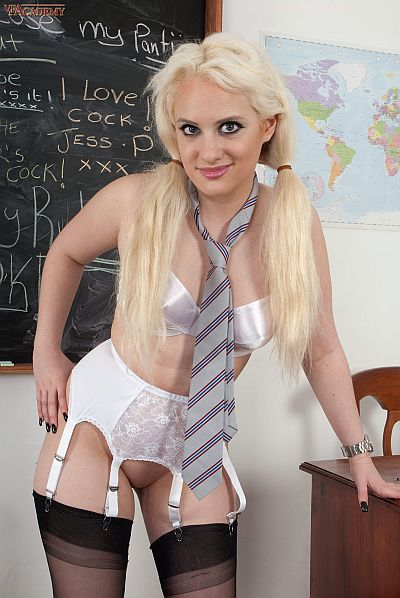 It's been a steep learning curve getting used to British academy rules for feisty blonde Emily, from Chicago in the USA.
Having to wear a traditional school uniform, nylon stockings and suspenders is a new experience for this American college girl.
The delightful sensation of her sexy nylon underwear against her flesh, and the pull of her suspenders on the tops of her stockings beneath her skirt, has aroused her sexual feelings.
She'd hardly been here a week when Emily was caught with her panties down while having sex with one of the other girls in the locker room.
Made to stay in the detention classroom after everyone has gone home, Emily recounts her recent experience.
"Wow, I'm getting really turned on right now, thinking about how Melissa had me against that locker," Emily says, undoing the buttons on her crisp white blouse and pushing the cups of her bra together.
"How her hands were all the way up my skirt with my panties off, just thinking about that now gets me really wet," she says, lifting her skirt and rubbing her pussy through the front of her sheer nylon panties.
Turned on, Emily strips out of her restrictive uniform, and slips her hands between the fabric of her white nylon panties to get a good feel of her ass. Then putting her thumbs in the waistband of her panties, she pulls them down her seamed stockinged legs and thows them to one side.
Making herself comfortable on the teachers desk, she inserts several fingers up her moist pussy hole, which makes wet sticky sounds as she masturbates.
Emily shouts with delight as she frigs herself off to a pleasurable orgasm, her soft pink breasts bouncing up and down as she climaxes.
See Emily masturbating in her traditional uniform, nylons and panties in this (182 image) photo set, and watch her masturbating to climax in her video – 'See Emily Play' at VF Academy.
Get our superb Vintage Flash newsletter each week - all the latest model info, updates, set preview pics and more!