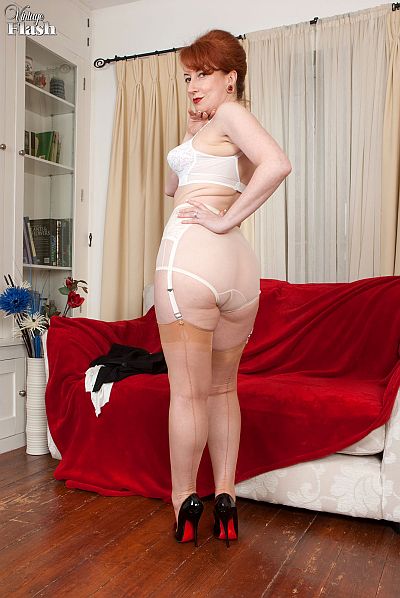 Red is so pleased you came straight home from work instead of going down the strip club with your buddies.
In fact she's heard from your boss how diligently you have been working and that you'll be getting an extra big bonus for all your efforts.
"Your boss told me I had to give you a special treat, so I want you to sit right down and make yourself comfortable, darling," says Red, standing in her white blouse, tight skirt, seamed nylons and high heels, ready to give you a raunchy stocking and suspender striptease.
"Now I want you to get your cock out right now and stroke it as you watch me put on this special performance," she tells you, seductively wiggling her hips and smoothing her hands over her arse through the fabric of her tight skirt.
"You can move a bit closer, darling, but you can only look and not touch, except for your cock!" she insists, sitting down and rubbing her stockinged thighs together under her skirt so they deliberately make a swishing sound.
Beginning her striptease, Red slowly removes her blouse and wiggles her ass as she teases out of her tight skirt, pulling it over her firm, round buttocks encased in sheer nylon panties.
"That pussy's getting very hot," says Red, her hand touching it through the fabric of her panty crotch. 'You know what I'm like when I get turned on."
Red pulls down her panties until they are stretched across the tops of her fleshy thighs, bending over so her long suspenders stretch around her buttocks to tug at the tops of her tan nylons.
"Now, I want you to cum with me," she says, laying back on the couch and lifting her legs, spreading them wide so she can slide a vibrator up her cunt.
"That's it, I want to see that spunk flying, wank that cock hard!" Red adds encouragingly, as she plunges the vibrator deep in her juicy cunt and urges you to cum with her as she fucks herself to a shuddering climax.
See Red striptease in this (158 image) photo set, and giving jerk-off encouragement as she masturbates in her nylon stockings video – 'Special Treat' at Vintage Flash.
Get our superb Vintage Flash newsletter each week - all the latest model info, updates, set preview pics and more!