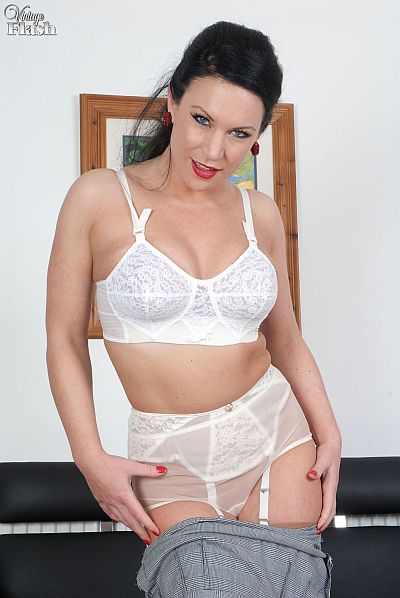 Ashleigh turned up for her job interview appropriately attired in a tight fitting pencil skirt that showed off her classic curvy figure, black top with bullet bra underneath, nylon stockings and black leather patent heels.
I marveled at Ashleigh's firm but shapely legs as she sat before me in her Magnolia glimmer full-fashion nylons that she was wearing.
Noticing I was looking at her legs, she parted them slightly so I could get a glimpse of her sheer cream panties and the tops of her stockings.
'Cheeky!' she exclaimed in mock surprise, as she caught me looking up her skirt. 'Are you getting naughty? Is this even a real interview?'
Playing along, she pulled back the hem of her tight skirt to show me her stockinged thigh and the suspender clasps fixed to the welt of her silky nylons.
'Tell you what, why don't you just put your cock in your hand', she suggested. 'Start wanking yourself, nice and slow while I put on a little show for you.'
Ashleigh was keen to impress, and began her slow striptease by giving me a nice rear view as she slipped that tight pencil skirt over her pantied arse.'
'My job, is to get you off!', she said, emphatically, grabbing her pantied ass with one hand. 'Come on, stroke that cock, get it really hard!'
Teasingly, Ashleigh paraded before me in her seamed stockings, suspenders and high heels, then leaning to give me a rear view of her arse she looked back over her shoulder…
'You just keep wanking that cock, wank it hard for me,' she said encouragingly, as she peeled her sheer cream knickers over the globes of her rounded arse cheeks.
Masturbating as she stood over me, I viewed Ashleigh's gaping cunt framed by the straps of her garterbelt as she rubbed the hard button of her clitoris and got herself off!
See Ashleigh Embers stripping in this (202 image) photo set and watch her masturbating in her video – 'This Is How I Get The Job' at Vintage Flash.
Get our superb Vintage Flash newsletter each week - all the latest model info, updates, set preview pics and more!