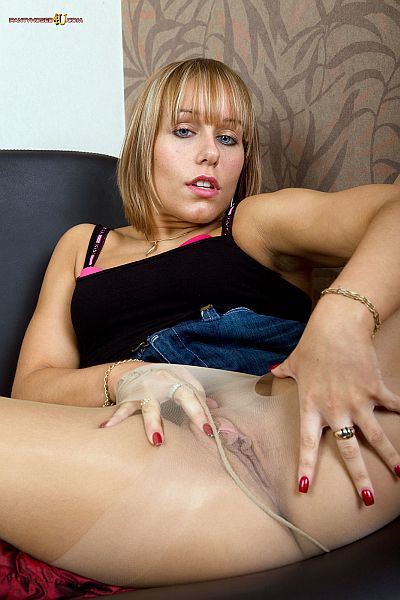 Our lovely Scottish tart Ashley is back for more sexy fun in her nylon pantyhose for this video, and this time she is wearing some pantyhose with a sheer shine.
'This is my new friend, it's a double-ender, so if you are lucky I might just stick it up my arse,' said Ashley, as she sat before me and showed me her new toy.
But first, Ashely wanted show me her sexy new tights and tease me a little before she got really down and dirty.
'I like these ones, they are very shiny', she said in her sexy Scottish accent, extending her legs to let me see them, as she caressed the glimmering nylon material with her fingertips. 'They make my legs look very nice, and they make them feel extra silky and soft.'
Ashley lifted one leg high, so I could clearly see her naked cunt behind the tight gusset of her sheer pantyhose.
'I'm feeling a bit nasty this time, and I might do a few more dirty things, as the last one I did was a bit tame for me', she said, as her manicured fingers circled the area of her hot snatch trapped behind the nylon screen of her tights.
True to her word, Ashley put of a real filthy show, as I sat and videoed her rip open the seat of her pantyhose and work that double-ended dildo up her twat.
She then teased her anus, poking her fingers up her ass and licking them clean, before she finally inserted a vibrator up her tail pipe and fucked it through her torn pantyhose.
Watch Ashley masturbating with her dildo in this (214 image) pantyhose photo set and video – 'A Tail Of Of Two Holes' at Pantyhosed 4U.
Get our superb Vintage Flash newsletter each week - all the latest model info, updates, set preview pics and more!