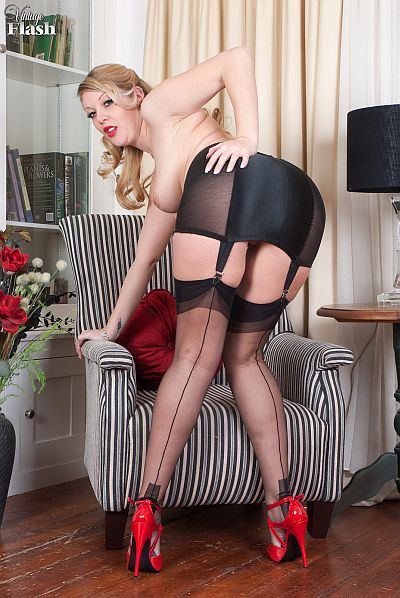 Shay had been out walking in her new red stiletto heels, but not being used to them, she sprained her ankle and went back home. Relieved to be sitting down, I watched as Shay massaged her ankle, then removed her shoes so she could rub her stockinged feet and stretch her toes.
She was wearing full-fashioned black nylon stockings, and I delighted in noticing the seams running along the underside of her soles as she lightly gave them a massage. Shay said she was feeling quite sexy after having played with her feet a while, and feeling the need to take off a few layers of clothing, she began to strip out of her top and tight pencil skirt.
Having removed her clothing, Shay stood before me in a saucy red and black lace bra, black open-bottom girdle with matching lace panel, and gave me a perfect view of her long garter straps that pulled tautly at the tops of her nylons. I could see Shay was wearing no panties as she stood in her heels, her hand following the curve of the black satin girdle panel that stretched over her ample rear end as she posed provocatively.
Sitting down again, she lifted her legs together to show me the long black seams that ran from the soles of her feet, right up the back of her shapely legs, to the tops of her nylons. Then parting her thighs, she masturbated vigorously, her fingers making juicy liquid sounds as they dipped in to her moist cunt hole.
With her stockinged legs open and spread upwards so I could see the soles of her pretty nyloned feet, Shay diddled her hot clitoris with slippery fingers and made herself cum loudly as she climaxed in her girdle.
See Shay Hendrix masturbating in girdle and nylons in this (151 image) photo set and full length movie – 'Perils Of A High Heel Model' at Vintage Flash.
Get our superb Vintage Flash newsletter each week - all the latest model info, updates, set preview pics and more!