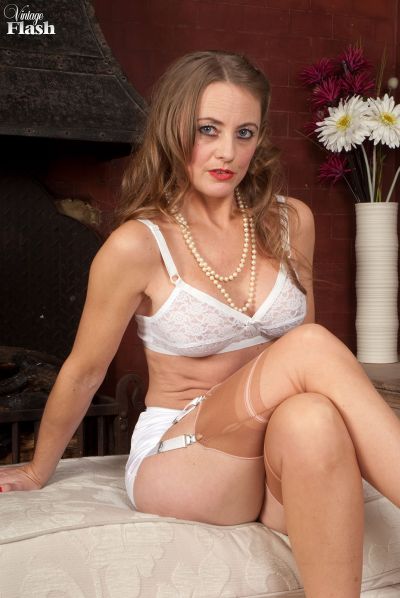 CLICK HERE TO SEE MOVIE TRAILER OF TRICIA WEST MASTURBATING IN HER NYLON STOCKINGS
Naughty housewife Tricia stripteases down to her nylon stockings and suspenders, then masturbates for your pleasure in this Vintage Flash Movie.
Tricia went to a party dressed in a fetching floral frock, sexy seamed nylon stockings and pink heels in the hope of meeting some men. Unfortunately, the party was rather boring as there were no nice men there, so she returned home.
Having got dressed up in the hope of pulling, Tricia feels it was a bit of a waste of effort, but fortunately we are there to appreciate her legs in their fine vintage nylons.
Tricia is happy to reveal what she is wearing and lifts her dress to show us her see-through petticoat, full-cut satin knickers, seamed nylons and white suspender belt.
'My legs feel smooth, silky smooth', she tells us, stroking both hands up the length of her seamed stockinged legs. 'I hope you're going to come and have fun with me?'
Tricia then gives us a chirpy strip down to her satin panties, garterbelt and lovely vintage nylons!
Of course, she goes a bit further than that, and we get to see everything this mature, but very toned, lady has on offer!
This is the first time stockings housewife Tricia has ever been on an adult video, and seeing as she's quite popular with our members, you'll be seeing more of her in the near future.
See mature housewife Tricia striptease and masturbate in her nylons in this (157 image) photo set, and full length movie 'Satin Panties & Me' at Vintage Flash.
Get our superb Vintage Flash newsletter each week - all the latest model info, updates, set preview pics and more!