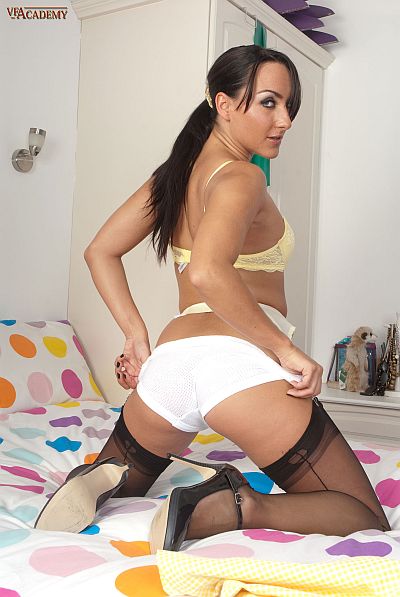 It may have sounded impertinent, but Chloe was actually making a compliment when she told Ms Holly that 'she had a nice arse'. The foolish girl was immediately sent up to her bedroom for her suggestive language and inappropriate behavior towards Ms. Holly, for whom she had a big crush.
Bored while sitting on her own, she welcomed the opportunity to be a bad girl for our randy janitor, who as you know likes to keep the girls company whenever the occasion arises.
'So now, I'm stuck up here with you,' Chole said, having explained why she had been sent to her room. 'I'm sure you can keep me occupied for the afternoon,' she added suggestively, making sure he understood exactly what she had in mind by moving her hands sensuously over her shapely legs in shiny, black stockings and heels.
'Am I making you horny, already?' Chole inquired, drawing her hands seductively over her stockinged legs and letting her fingers trace the line of the seam up the back of her nyloned thighs. 'Are you going to have a little play, while you watch me in my sexy, stockings and suspenders?'
Chloe stood and leaned over to give a rear view of her ass in full-cut, white cotton panties, which contrasted nicely against the flesh of her tanned buttocks. Putting one foot up on the chair she tipped her pantied ass upwards, and reaching between her thighs she rubbed her hot pussy through the damp, cotton gusset.
Climbing onto the bed she knelt and tugged her panties over the cheeks of her tanned arse. Leaving the panties stretched around her stockinged thighs, she bounced her ass up and down in an suggestive manner, while she encouraged the janitor to wank his cock for her.
'Keep wanking it harder and faster, that's it!' Chloe said excitedly, gesturing with her fist, as if her fingers were curled around the shaft of a big cock. 'Imagine your balls slapping against my arse, while you've got me bent over and you're fucking me!'
Chole lay back on the bed with her stockinged legs wide apart, her hand slapping against the juicy lips of her moist cunt as she masturbated. She bounced her hips and ass off the bed as he felt the quickening of her orgasm, her fingers slipping inside her hot slippery hole as she reached and intense climax.
Get our superb Vintage Flash newsletter each week - all the latest model info, updates, set preview pics and more!