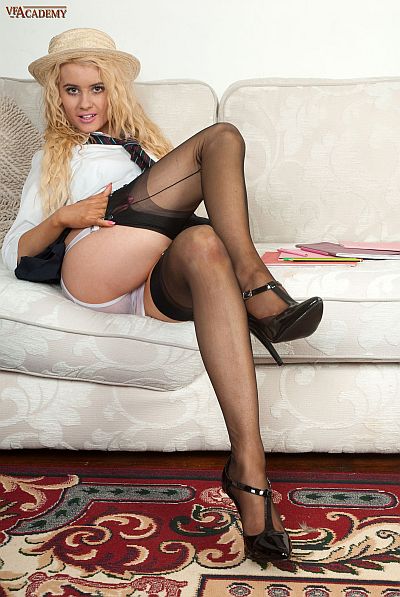 Brook is bored while studying and would rather strip off and masturbate in her nylon stockings and suspenders than study her books. So she decides to amuse you by stripping of her uniform and play in her stockings and suspenders as seen in her video at VF Academy.
'I bet you'd like to see my biology, wouldn't you?' Brook says, lifting her pleated skirt to show off her white panties, six-strap suspender belt and stockings underneath.
'Come closer and get a look up my skirt,' she grins, making sure you get a look right up her skirt at her pussy behind the sheer white panties and the straps of her suspenders as they pull at the tops of her nylon stockings.
Brook then strips out of her dress and stands feeling her pussy through the crotch of her nylon knickers. Slipping her hand inside her knickers she massages the lips of her moist vagina, then kneeling she pulls her panties to one side of her buttocks to expose the puckered ring of her ass.
Brook then lays back and pulls her panties down her legs and over her patent leather heels. Opening her stockinged legs, she then takes her panties and rubs them over her naked pussy which causes her to orgasm loudly.
Get our superb Vintage Flash newsletter each week - all the latest model info, updates, set preview pics and more!