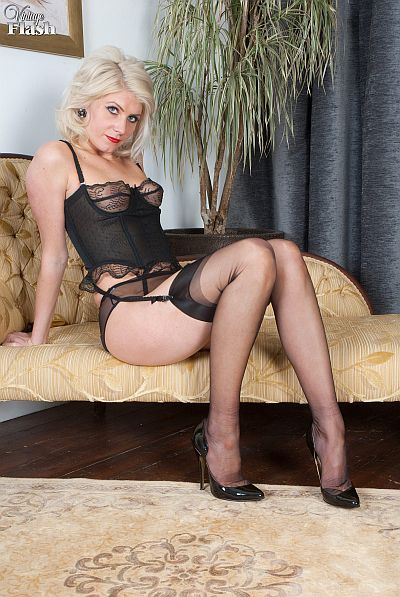 Glamorous blonde Bianca is waiting for you dressed in nylon stockings and six inch stiletto heels, and invites you to join her in a game of tease and seduction in her latest video at Vintage Flash.
'I'm wearing a lacy blouse which is really quite see through,' Bianca says, as she sits on the chaise lounge cupping her breasts through the front with her hands. 'It's very racy, which is the kind of mood I'm in today'.
Bianca peers out from under her lowered eyelashes, slowly slipping the edge of her tight skirt back over her thighs to display her slender legs in black RHT nylon stockings and heels.
'Now then, why don't you get down there, get your cock out and start wanking it for me, because I like to see a nice hard cock,' says our sultry blonde, determined to tease you to the max.
Bianca lets you watch while she puts on a lingering striptease, pulling that tight skirt slowly over her firm ass in sheer black nylon panties and running her hands up her stockinged legs to the top of her thighs.
'You just keep giving that cock a good wank, while I enjoy the feel of these sexy nylon panties,' she says, reclining on the chaise with her legs apart and her hand feeling her pussy through the crotch.
Bianca then pushes her hand down the front of her knickers and masturbates with fingers slipping up her juicy cunt. Then throwing her blonde head backwards she feels her pleasure mounting and climaxes in her sexy nylon panties.
Get our superb Vintage Flash newsletter each week - all the latest model info, updates, set preview pics and more!