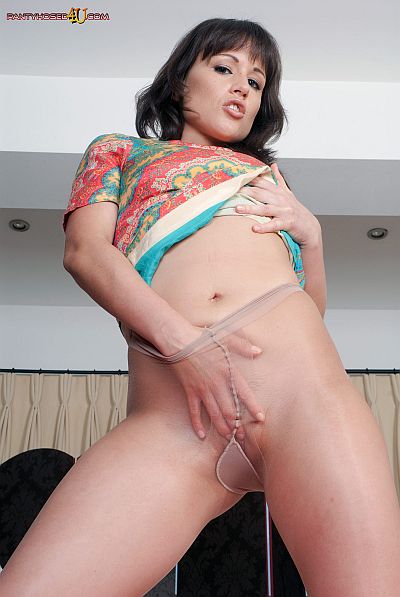 Lucy Love teases in her sheer shiny nylon pantyhose then rips open the crotch to masturbate to orgasm in this video at Pantyhosed 4U.
'Here I am in my glossy tanned pantyhose and guess what, I'm wearing no knickers,' Lucy says, lifting her dress to show us she is most definitely sans panties.
'They make me feel so sexy, I love wearing pantyhose especially when I'm not wearing any panties,' she continues, bending over to give a view of her pantyhosed legs and ass in sheer nylon that shines with bands of light as she moves.
Lucy lifts her dress higher to give a full frontal view of her pussy encased in tight shiny nylon behind the gusset of her sheer tights. Stretching her hose upwards, we get in closer for a better look as she pulls the seam of her hose between the slit of her naked cunt.
'I'd love you to lick my juicy pussy through my pantyhose and get you tongue right in there,' Lucy says, pushing her hands down the back of her tights and pulling at the cheeks of her arse to expose her puckered ring which is visible through the sheer nylon.
Sitting with her legs spread wide, Lucy splits the crotch of her pantyhose open with her fingernails and tears a hole to get at her gaping snatch. Holding the lips of her cunt wide apart, she teases the hot button of her erect clitoris as she masturbates openly.
Lucy then gets into lots of different positions as she frigs her hot pussy, building up her pleasure to a reach a breathtaking orgasm in her ripped tights.
Get our superb Vintage Flash newsletter each week - all the latest model info, updates, set preview pics and more!