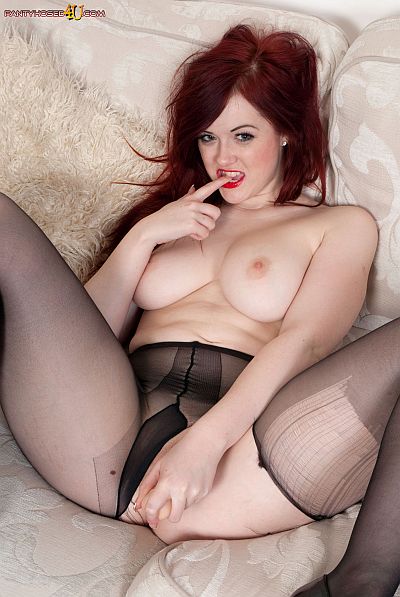 Jay has her own toy story and it's hand powered action all the way, as you'll see when our sexy redhaired beauty masturbates in ripped nylon pantyhose in her video at Pantyhosed 4U.
Jay lifted her arms above her head and removed her flimsy dress, standing before me in her high heels and sheer black pantyhose that clung tightly to her shapely hips and legs.
She flaunted her pussy as she sat on the couch with her legs apart, massaging the hot pink lips of her sex behind the reinforced patch of her black sheer nylon tights.
Jay teasingly dragged her fingers across the surface of tight pantyhose encasing her thighs, causing the stretched nylon material to break and ladder under the sharp edges of her fingernails.
Tearing into the nylon, she opened a hole in the gusset to expose the pink flesh of her cunt; pulling the shards of tattered black pantyhose up to her soft pale titties, while sliding her fingers between the lips of her pink pouting pussy.
Inserting a flesh like a dildo up her moist pussy, she stuffed the object vigorously up her sweet, juicy fuck hole. Then straddling the dildo like a cock, she rubbed the hot nub of her clitoris with one hand and masturbated to a pantyhose ripping climax.
Get our superb Vintage Flash newsletter each week - all the latest model info, updates, set preview pics and more!