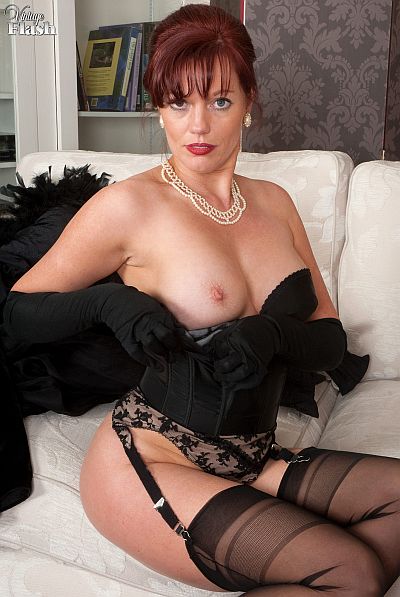 Holly is looking very sophisticated in her gorgeous velvet evening dress, pearls, satin opera gloves, stockings and heels, ready for an evening out at a posh dinner.
The sensuous feel if her dress and the textures of her other garments she is wearing below arouses Holly's libido, to the extent she must satisfy her sexual urges first.
Unzipping her snug fitting velvet dress, she turns to give a rear view and slides the garment very slowly over the curves of her hips, presenting herself in matching satin long line bra, waspie corset and shiny black panties.
Bending right over so the muscles of her stockinged legs are taut, Holly feels her gloved hand up the back of her seamed nylons; all the way from her ankles to the metal clasps of her suspenders attached to the tops of her stockings.
Pulling her panties down slowly to give a better look at her superb arse and naked pussy, Holly then slips off her heels and makes herself comfortable on the sofa.
Laying back with legs open, Holly's satin gloved fingers massage the pink flesh of her clitoris and lips of her pussy as she masturbates to climax.
Get our superb Vintage Flash newsletter each week - all the latest model info, updates, set preview pics and more!