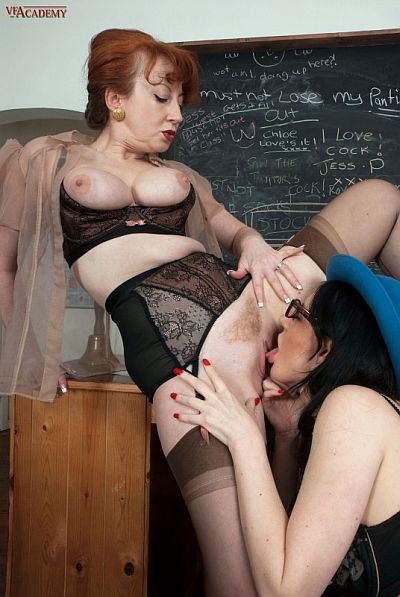 Samantha had been given lines by Ms Rouge as a punishment for breaking school dress code. However, Samantha finds a way to get out of doing them by adjusting her suspenders and distracting her teacher.
As Ms Rouge checks Samantha's suspenders to see if they are holding up her stockings correctly, the naughty schoolgirl opens her legs to let her teacher get a good look up her skirt.
Noticing she is not wearing regulation knickers, but sheer black nylon panties instead, Ms Rouge uses her firm hand to give Samantha's buttocks a spanking.
Lifting Ms Rouge's skirt to see what is underneath, Samantha accuses her teacher of being a bit hypocritical considering she is also wearing sheer panties.
Samantha then unbuttons Ms Rouge's see-through blouse, and slipping her hands down the cups of her teacher's bra, she scoops out those voluptuous titties and sucks on the nipples.
Ms Rouge then gets down and licks the damp crotch of Samantha's knickers, before pulling them to one side to tongue and finger her pupil's hot pink pussy.
Then Samantha pulls Ms Rouge's knickers down her seamed stockinged legs, and gives her teacher's mature cunt and clitty and good licking.
Get our superb Vintage Flash newsletter each week - all the latest model info, updates, set preview pics and more!