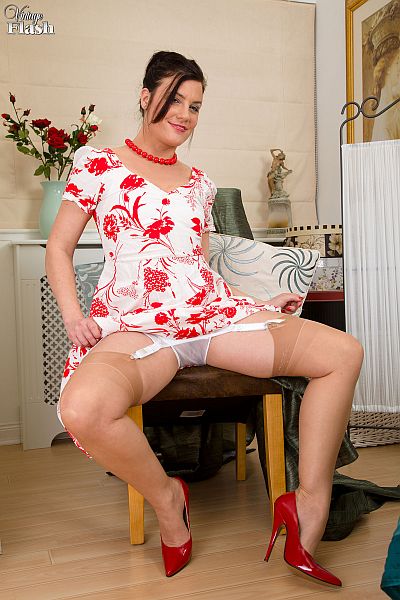 Sofia looks such a prim and proper lady in her pretty dress, stockings and heels, but in spite of her demure appearance, this sexy housewife is willing to show what she's wearing underneath.
Lifting her dress to give a display of her vintage tan nylons and white satin suspender belt, Sofia enjoys giving a bit of stocking tease and a look at her underwear.
Standing to take off her dress, she hooks her thumbs in the waistband of her white nylon panties and eases them down over the metal clasps of her suspenders, which are attached firmly to the tops of her stockings.
Sitting back on her chair, Sofia presses her legs together and lifts them straight up, giving a perfect view of her seamed stockings and the taut garter straps pulling on the welt of her nylons.
Sofia then pulls the lips of her cunt apart to insert several fingers into her sticky hole, then masturbates by rubbing the hard button of her erect clitoris to orgasm.
Get our superb Vintage Flash newsletter each week - all the latest model info, updates, set preview pics and more!