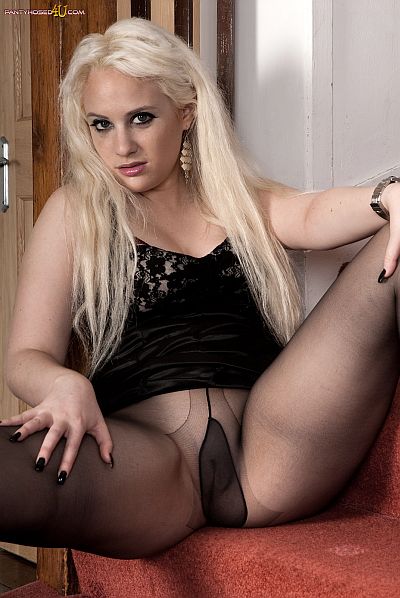 Blonde Teen Emily loves going out clubbing wearing a black dress that barely covers her her thighs and gives teasing glimpses of her pantyhosed ass.
Emily came down the staircase in her party outfit ready to leave the house for another night out on the town, but I persuaded her to stay awhile and put on a little show in her pantyhose.
'You're right, who needs to go out when we can have our own sexy party at home', she agreed, as she began to rub her pussy through the tight nylon of her black tights.
Satisfied she'd teased me enough, Emily removed her dress and kicked off her heels until she was naked, except for her high waisted pantyhose clinging to her curvy figure.
'I love being completely covered in nylon', she said, pulling up the waistband of her hose and streching it over her petite tits. 'I love the feel of the nylon against my skin and these pantyhose are really turning me on.'
Emily pushed her hand down the front panel of her reinforced pantyhose and started playing with her pussy.
'You just wank while I play with my pussy though these nylons,' she said, encouragingly, ripping open the gusset of her tights to get at her hot pussy and frig herself off!
See Emily masturbating in her sheer nylon pantyhose in her (167 Image) photo set and video – 'Ready To Go Out Now'.
Get our superb Vintage Flash newsletter each week - all the latest model info, updates, set preview pics and more!