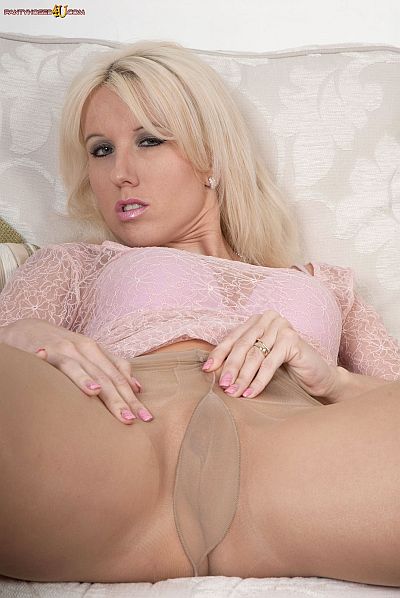 Wearing a very short, very sexy, see through Lacy dress, Evey is ready for some pantyhose pleasures in her latest video at Pantyhosed4u.com.
'I love wearing these pantyhose and I know you like watching me wearing them,' she says, as she poses in her glossy pantyhose and high stiletto heels.
Bending forward so you can just see the outline of her hose through her dress, Evey seductively moves her pantyhosed ass from side to side.
Turned on by her silky smooth pantyhose covering her pussy, Evey puts her hand over nyloned crotch and massages her moist cunt through the tight nylon screen.
Then slipping her hands inside the nude sheer nylon front panel, Evey caresses her soft inner thighs and touches her pussy under the tightly stretched nylon material.
'I want you to kiss me right there, right on my nylon pussy, go on!' she says, drawing attention to the reinforced nylon patch that tightly covers the lips of her adorable pantyhosed cunt.
'Oh, that feels so good, I want you to kiss my legs as well,' she encourages, reaching down to stroke her ankles. 'Kiss those nylons for me please, right from my feet all the way up to my thighs, then lick my pussy through my tights, that's the best bit!'
Evey sits on her side to show off her ass and cunt through her shiny pantyhose, then slides her hand down the front panel and slips her fingers into her sticky fuck hole.
Evey then digs her fingernails into her pantyhosed crotch and rips out the gusset to get at her hot throbbing cunt. Then bending over, her mooning ass exposed and surrounded by shredded sheer nylon, Evey frigs herself off to an intense pantyhose climax.
See Evey Krystal masturbating in her sheer nylon pantyhose in her (157 Image) photo set and video 'Kinky Pantyhose Fun'.
Get our superb Vintage Flash newsletter each week - all the latest model info, updates, set preview pics and more!