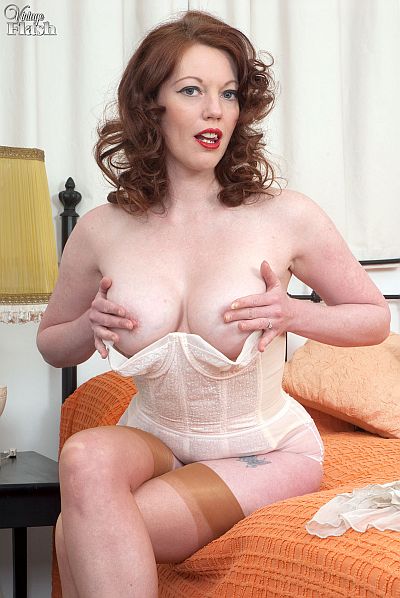 Housewife Holly was looking for pleasure, sheer pleasure, and in need of some company to keep her entertained while her husband was away.
She phoned and asked if I would come over straight away, as she was feeling very horny in her corset and nylon stockings, so I'd better be quick.
When I arrived I found her wearing a lacy blouse, underneath which I could see the outlines of her corsetry, a short frilly skirt, some tan RHT stockings and pink heels.
Holly was definitely on heat, and she kept lifting up her short flimsy skirt to give me a look at her stockings tops, suspender straps and panties as she paraded and flirted before me.
She drew my attention to the metal clasps of her suspenders holding her stockings in place, and touched the slit of her pussy which was just visible through her sheer nylon panties.
'I'll get to those in a little bit,' she said, referring to her panties, then gave her ass a little wiggle as she pulled her skirt back down to conceal her naughty underwear. But not for long…
Holly continued her tease, stripping out of her blouse and skirt to reveal she was wearing a high waisted corset with long garter straps that stretched all the way to the tops of her tan RHT stockings.
'I bet it makes you feel so horny seeing me in my sheer nylon underwear,' she said, as her hands caressed the round globes of her arse through the gossamer like material of her panties.
Holly looked ravishing in her lingerie, and reclining on the bed she slipped her hand down the front of her damp nylon knickers and slowly teased her naked pussy with a pink vibrator.
Having teased herself into a state of full sexual arousal, Holly spread her stockinged legs, and with panties round her ankles she pleasured herself with a vibro inserted up her shaven haven.
See Holly Kiss stripping down to her stockings in this (165 image) photo set and watch her masturbating in her video – 'Time For Sheer Pleasure' at Vintage Flash.
Get our superb Vintage Flash newsletter each week - all the latest model info, updates, set preview pics and more!