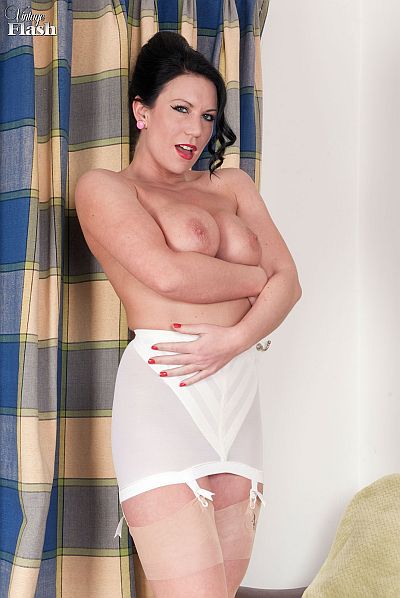 Having been to a party wearing her summer dress, nylon stockings and heels, Ashleigh is feeling hot and sexy after having teased some of the males she encountered at this particular soiree.
'I'm sure some of the men at that party could see through my dress,' recounted Ashleigh. 'One guy got a little bit frisky; couldn't stop talking about my lovely stockings, and wanted to put his hand up my dress.'
Ashleigh found such blatant forwardness a turn on, and knowing the erotic effect she'd on all these guys made her feel horny, and in the mood for some playtime.
Slipping off her high heels, Ashleigh rubbed her tired feet and suggested I give them a massage, or give her nyloned toes and nice soothing suck.
Then letting her sexy halter neck frock slip to the floor, Ashleigh stood in front of me in her girdle, and almost transparent vintage full fashion 'marks and sparks' nylons.
With her big cock like vibe close at hand, Ashleigh encourages you to get your cock out and masturbate with her. With her stockinged legs spread open, she teases her clit and talks dirty, offering you her pussy and encouraging you to 'fuck her hard and deep.'
Stuffing that cock like dildo up her twat, Ashleigh makes herself cum, then shows you how she does a kinky nylon foot wank, on her big toy!
See Ashleigh Embers in this (162 image) photo set and full length movie 'Pleasures To Share' at Vintage Flash.
Get our superb Vintage Flash newsletter each week - all the latest model info, updates, set preview pics and more!