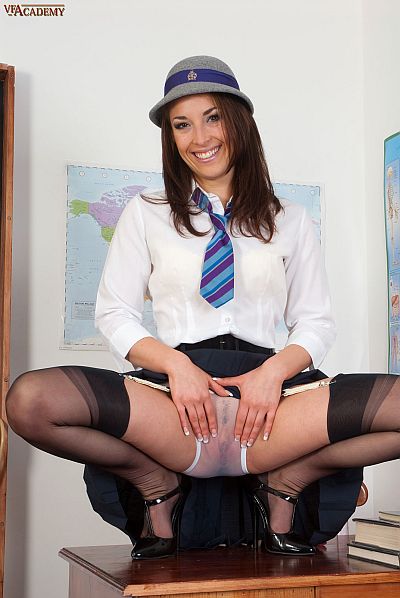 Jessica gets caught drawing rude graffiti of a cock on the blackboard by our randy janitor and has to explain herself.
She could do with a nice big cock right now, and seeing that she has got your attention she has an idea how to get some…
'I have heard, that you've got a big cock, is that true?' She asks, naughtily, as she sits down and opens her legs so her stocking tops are showing. 'I'd I love you to get it out and play with it in front of me!'
Jessica knows just how to get your cock hard, and begins by lifting her skirt to show you her arse encased by tight, see-through nylon panties.
Then she bends forward and leans on the desk, stroking her ass and legs, giving superb views of her long suspender straps which pull tautly at the tops of her seamed black nylons.
Jessica kneels on the top of the desk, lifting her skirt to reveal the webbing of her garter-belt attached to the tops of her nylons, the slit of her pussy showing through sheer nylon panties.
'Ooh, you're big and hard now', she remarks, 'it's true what the girls said about your big cock!'
Having shown her 'yours' Jessica feels it's only fair that she shows you something of 'hers', so she starts by stripping out of her uniform, down to her undies, sheer black nylons and panties..
Jessica continues to talk about subject of her desire, your cock, and encourages you to jerk-off as she masturbates with legs, pussy and ass spread wide on the desk!
Watch Jessica Pressley wanking in panties and stockings in this (178 image) photo set and full length movie 'I Love Cock!' at VF Academy.
Get our superb Vintage Flash newsletter each week - all the latest model info, updates, set preview pics and more!