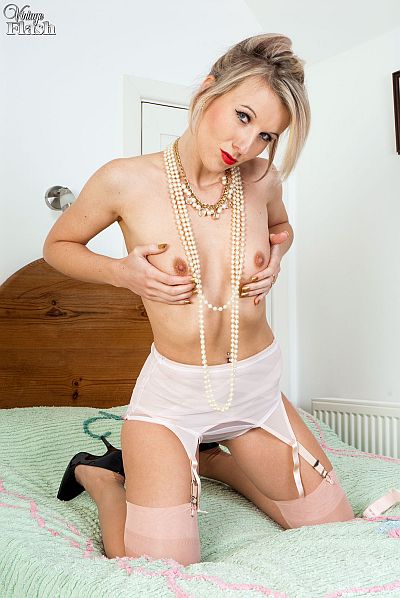 VIEW THIS TRAILER OF EVEY MASTURBATING IN PINK LINGERIE
Evey Krystal teases and masturbates in pink nylon stockings and garter belt in this Vintage Flash Movie – 'Presented In Pink'.
Lovely Evey is feeling 'nice and naughty' today, wearing a very sexy pink garter belt and beige nylon stockings with pretty pink tops.
Relaxing on the bed, Evey stretches out her shapely stockinged legs and describes in detail just how sexy she feels in her naughty underwear.
Evey kneels on the bed and gives us a perfect view of her peachy round ass, naked pussy and puckered asshole through the see-through material of her nylon panties.
While giving us a splendid view of her suspendered buttocks and thighs, Evey hands slip down the back of her see-through nylon panties to give her pussy and butt hole a good rub.
Spreading her stockinged legs and prising her pussy lips open, she wanks her juicy cunt using both hands to gives herself a deep and satisfying orgasm.
See Evey masturbating in her sexy nylons in this (149 pics) photo set and hi-def movie 'Presented In Pink' at Vintage Flash.
Get our superb Vintage Flash newsletter each week - all the latest model info, updates, set preview pics and more!