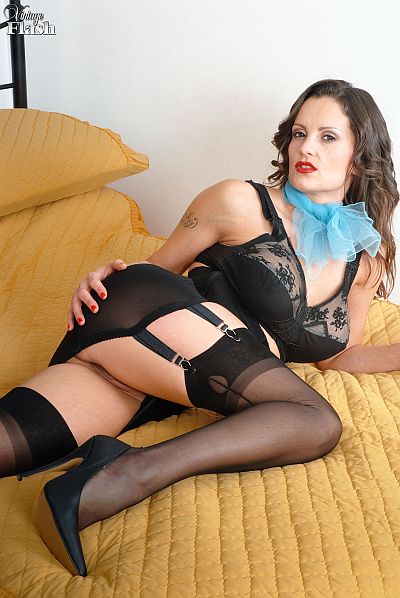 CLICK HERE TO SEE MOVIE TRAILER OF VALENTINA MASTURBATING IN HER NYLON STOCKINGS
Valentina sits on the bed looking very vampish in her sheer black nylon blouse and tight pencil skirt, red lipstick and high heeled shoes.
'I'm wearing some very sexy vintage nylons here, in a delectable black colour', she says stroking her knee and legs with one hand. 'Would you like to see the tops of them?'
Valentina draws the hem of her skirt back and reveals her stockings tops and suspenders attached to the welt of her nylons with metal clasps.
'I love the feel of the nylon material against my soft, fair skin', she continues, pushing her fingers into the tops of her stockings.
Removing her sheer black nylon blouse and tight pencil skirt, Valentina reveals her stunning black widow outfit lacy bullet bra, 6 garter high-waist girdle, and sheer vintage full-fashion nylon stockings.
As she lays back on the bed with her nylon legs splayed wide, Valentina wanks her pink pussy to reach orgasmic glory in a girdle!
See Valentina Cruz in this (163 image) photo set and full length movie 'Glory In A Girdle' at Vintage Flash.
Get our superb Vintage Flash newsletter each week - all the latest model info, updates, set preview pics and more!