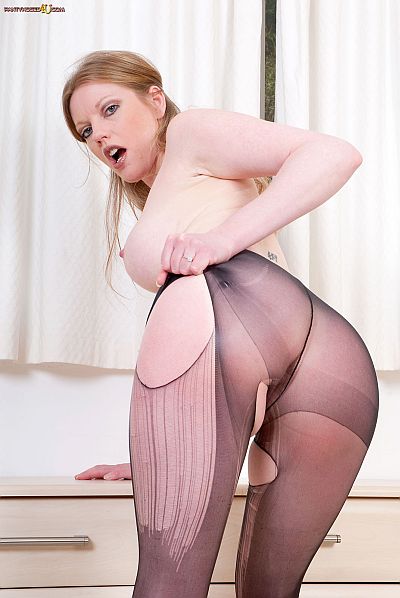 CLICK HERE TO SEE MOVIE TRAILER OF HOLLY IN HER PANTYHOSE
Holly can't find anything of interest on her TV, so instead of tuning in, she gets turned on and decides to have some fun in her sheer nylon pantyhose.
The cheeks of Holly's pantyhosed pert butt have no place to hide under her glam micro mini dress, it's that micro… Just get a look at her nyloned arse as she presents it to you! Her pantyhosed globes firm, round and so tempting you'll just want to reach out and touch them.
Holly is so turned on by her pantyhose, her pussy is hot and pink behind the front panel of her nyloned crotch.  Her clitoris is hot and in need of some stimulation, so she tugs her pantyhose upwards, squashing her snatch behind the tight nylon mesh.
'Can you see how tight they are over my pussy', she asks, as she pulls the front of her pantyhose up over the rosebud of her vagina. 'Why don't you come a little bit closer and see how tight I've pulled them, really very tight!'
We get in close to take a look at Holly's pussy cameltoed by the dark seam running up the front panel of her of her pantyhose. 'I'll bet you'd like to run your hands up my legs and rub this hot pussy', she remarks as she rubs her finger against her nyloned crotch.
Tearing at her pantyhose with her nails, Holly's hose get thoroughly laddered. Then taking her vibro, she slips it up her shaven haven and masturbates through the torn nylon crotch to reach her pantyhose orgasm.
Watch Holly Kiss masturbating through her laddered pantyhose in this (177 image) photo set, and hi-def movie 'Nothing To See…on TV' at Pantyhosed4u.com.
Get our superb Vintage Flash newsletter each week - all the latest model info, updates, set preview pics and more!