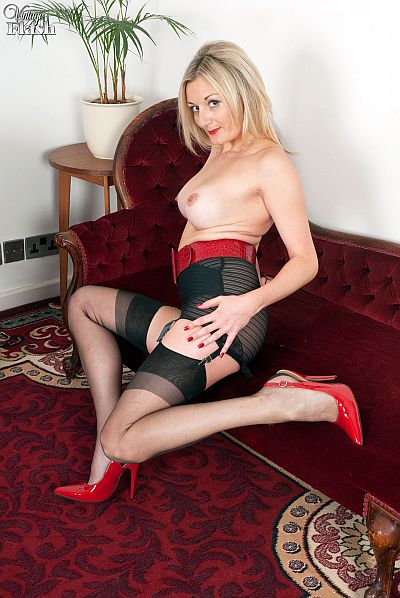 CLICK HERE TO SEE MOVIE TRAILER OF CHARLOTTE MASTURBATING IN HER GIRDLE AND NYLONS
Housewife Charlotte likes to keep fit and trim and loves to show off her figure, which I must admit is in great shape for a 40 year old.
Standing in the middle of the living room, she turned to let me see her figure hugging black sarong girdle, which was clearly visible through the mesh of her sheer nylon skirt. The other thing I could not help but notice was her naked pussy, which was visible, but tantalizingly concealed between the tops of her thighs.
There was nothing uninhibited about this lady of course, just that she was 'not going to show you just too much yet, that can wait till later.' What a tease!
'My legs feel so good in these stockings', she continued as she lay back on the Chaise longue, smoothing her hands up and down her seamed nylons. 'Obviously, I wish it was your hands running up and down my legs'.
Charlotte showed me how she likes to tease and began her seductive talk, knowing our members would be watching her video…
'I wonder what you would be doing if you were here? Touching me, bending me over, running your hands up and down my legs,' she said, demonstratively tracing her fingers up her back seam.
Charlotte reclined on the Chaise longue in her girdle and crossed her stockinged legs, causing them to swish with the sound of nylon as she rubbed them together.
Then having stripped out of her top and see-through dress, Charlotte spread her stockinged legs wide and masturbated brazenly in front of the camera, as I videoed her breathtaking climax!
See Charlotte in this (137 image) photo set and full length movie 'Sarong Showoff!' at Vintage Flash.
Get our superb Vintage Flash newsletter each week - all the latest model info, updates, set preview pics and more!