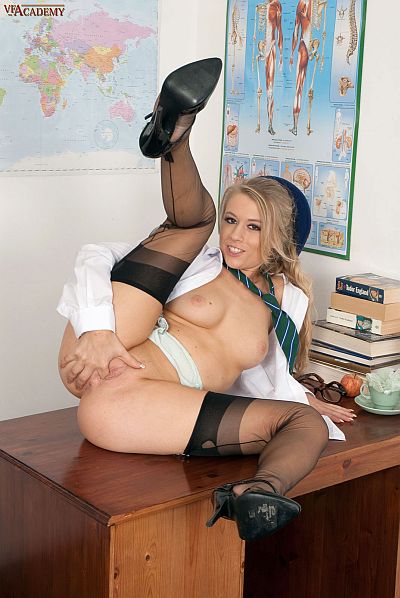 Michelle Moist enjoys some fingering fun as she masturbates on the teachers desk in our latest movie at VF Academy.
Michelle is in detention, having been caught fingering Cate under the desk while they were both seated together at the back of the classroom.
She is not amused at being held back and made to do lines, but she soon turns her punishment into an opportunity to be even naughtier.
As far as she is concerned, she was only helping Cate to learn how to masturbate, using her fingers to show her friend just where to touch to give herself pleasure. After all how does one learn these pleasures, by example of course!
Given that she was put in detention for being caught with her hands down her friend's knickers, Michelle is feeling naughty and all the more ready to show us the art of the sticky finger, and more besides…
'You see, there's all sorts of finger fun you can have', she tells us. 'But to show you, I have to take a few of these things off!'
Undoing her school blouse Michelle shows us how she uses her fingers on her nipples. Then getting on the teachers desk she removes her panties, and with her her stockinged legs spread wide open, fingers her moist and sticky pussy.
Michelle then kneels on the desk so her bare ass and pussy are fully exposed and rubs her butt hole with one finger, while she sticks another up her wet hole and masturbates. What a filthy little slut she is, wanking on the teachers desk with her stockinged legs wide open, working her fingers up her hot hole and making herself cum.
See Michelle Moist masturbating in the classroom in this (133 image) photo set and full length movie 'Fingering Fun' at VF Academy.
Get our superb Vintage Flash newsletter each week - all the latest model info, updates, set preview pics and more!