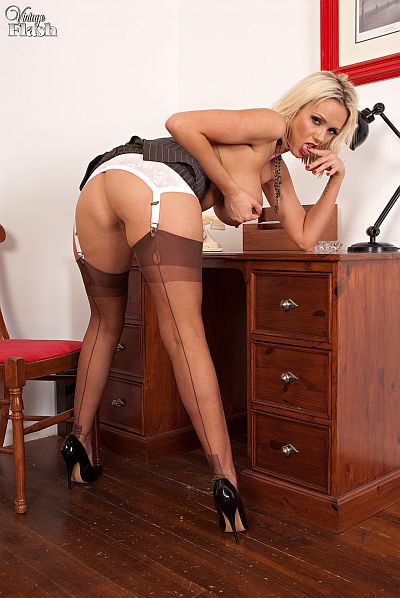 Business lady Lucy is working at her desk, looking very smart in her tight pinstripe skirt, seamed nylon stockings and slinky satin blouse.
Working from home means Lucy can take time to have a play with herself, as it's not unusual for her to feel sexy wearing stockings and heels.
'I get carried away when I'm at home… nobody can see me and I can do exactly what I like', she told me as she ran her hands over nyloned legs.
Lucy stood up and let me have a look at her slender stockinged legs from behind. 'How do my seams look, do they look straight. We must have straight seams now, mustn't we?'
Lucy mentioned she is looking for an assistant, as it gets a bit lonely on her own. The person for the job must have an interest in nylons of course, and one of the daily tasks would be to make sure Lucy's seams are exactly straight.
Showing me, Lucy hiked up her tight pinstripe skirt revealing she was wearing a white garter belt, then turned and lifted one leg so it was stretched out on the top of the desk. The webbing of her suspenders stretched to the tops of her lovely toning nylons, where I could clearly see the suspender-garter clasp fixed exactly to the top of the seam. Lucy slowly traced her fingers up the nylon line along the back of her leg, right up to the top of her stockings.
She was wearing no panties, and noticing I was looking at her pussy, her hand went between her legs as she started to play with her luscious cunt. Then she turned  back around and pulled her bra cups down over her large round tits, which are some of the best I've seen.
Slowly pulling her skirt down, the curves of her splendid ass looked so tempting in her sexy vintage garter belt that stretched half-way over her buttocks. It was an amazing sight, and I could see her new assistant would certainly have their hands full.
New applicants, please view Lucy's video before you apply for the position of 'nylon stocking assistant',  here at Vintage Flash.
Get our superb Vintage Flash newsletter each week - all the latest model info, updates, set preview pics and more!