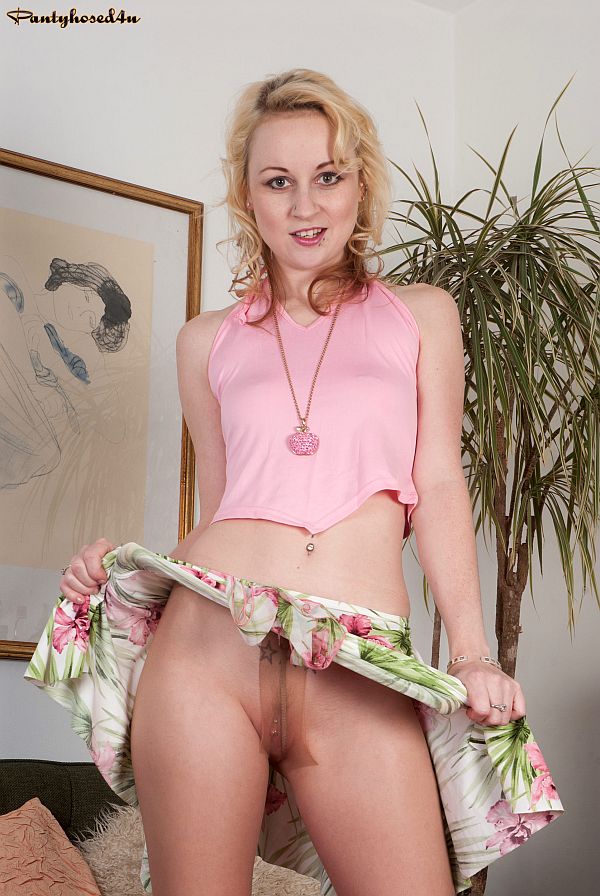 I'd arranged to take Kiana out to lunch the other day and when I turned up I found she was wearing a pink top through which i could see her nipples, a summer skirt and some tan nylon pantyhose with pink heels.
'What do you think, then. Do I look Nice?' She asked, as she sat sideways on the sofa and lifted up her skirt to run her hands over her slender legs sheathed in their delicate layer of pantyhose.'
She noticed I couldn't keep my eyes of her fabulous legs which looked so sexy in her tan hose, so she suggested we have a bit of a play together before going out to the pub.
Kiana slipped out of her skirt then sat and circled her fingers over the mound of her pussy through the nylon crotch, teasing the shiny metal of her clitoral piercing which could be seen through the sheer nylon. She then pressed her fingers against the nylon seam up the front of her hose and rubbed them over the compressed lips of her pussy, squashed behind the nylon screen of her tights.
Kiana got into a kneeling position so her ass was in view, then grabbing the waist of her pantyhose at the back.  She pulled up her hose so the gusset was stretched tight around her pussy and reaching between her thighs she gave her nyloned cunt a good rub.
Sitting on the edge of the sofa with her legs wide apart, she slipped her hand down the front of her pantyhose and splayed the pink, moist lips of her cunt so it showed through the thin layer of sheer nylon.
Kiana then masturbated with her hand down her pantyhose, her breath coming in short gasps as she steadily built up the intensity of her pleasure. She thrust her hips forward in quick rhythm at the approach of her orgasm and climaxed with her hand moving behind the soft, stretchy nylon of her sexy pantyhose.
Get our superb Vintage Flash newsletter each week - all the latest model info, updates, set preview pics and more!