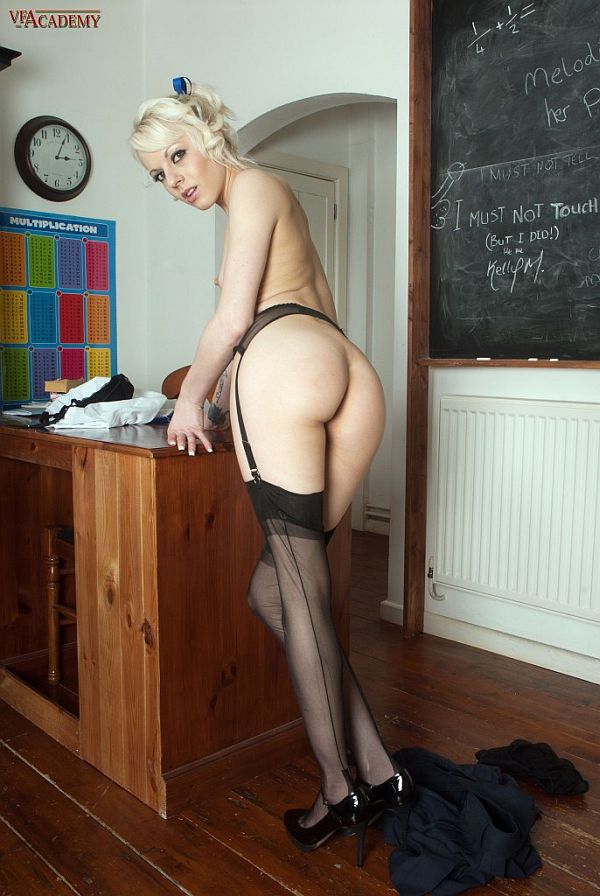 'I'm in detention because I got to carried away in my biology lesson,' April explains, as she sits with her stockinged legs crossed chatting to the janitor who has come to keep her company.
'I've heard you come in here sometimes,' she tells the janitor, sitting with her skirt slightly pulled up to give a him a glimpse of thigh above the tops of her stockings and suspenders. 'So I put myself here specially, as I've heard you've got a really hard cock and I wondered if you could teach me some biology.'
April asks the janitor if he would like to see what's under her skirt, then swiftly lifts it up and opens her legs to show she is wearing black nylon panties and rubs her pussy through the front of the crotch.
'I'm not supposed to wear the see-through ones, but I thought you'd like them,' she says, then gets up and turns around to lift her skirt and give a view of her pantied ass and slender legs in their wrinkled seamed nylon stockings.
April turns to give a frontal view of her panties, which are nicely framed by the webbing of her suspenders stretching down her thighs to the tops of her black nylon stockings. She slips her hand down the front of her sheer nylon knickers and gives her pussy a rub, then puts her fingers in her mouth and sucks off her juices.
'I think I'm getting a bit moist,' April remarks, sitting with her legs open on top of the teacher's desk and feeling her pussy through the damp crotch of her nylon panties. She then pulls her panties to one side and rubs her fingers between the pink fleshy petals of her open pussy which is sticky with her juices.
April strips off her uniform tie and shirt and stands with her back turned as she unzips her pleated skirt and lets it fall down her slender nyloned legs to the floor. Then removing her panties she sits on the teacher's desk once more and masturbates with her fingers slapping up the inside of her hot, wet cunt.
Get our superb Vintage Flash newsletter each week - all the latest model info, updates, set preview pics and more!