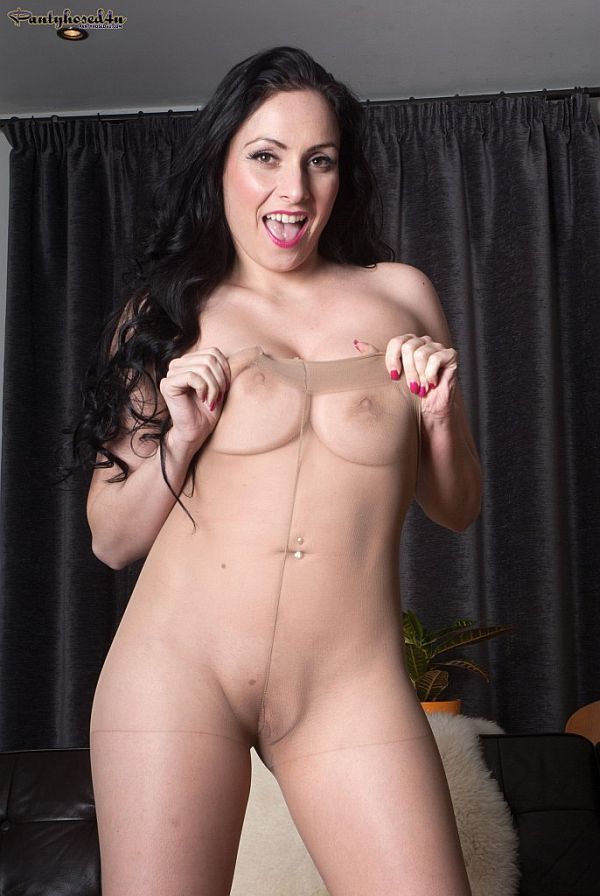 'I love the feeling of pantyhose, it excites me feeling them against my skin, all the way up my legs', said Sophia, as her hands brushed over her shapely legs covered in their shiny, sheer nylon hose.
'The soft nylon caressing my skin turns me on and always feels best without any knickers on,' she added, opening her legs for a quick look up her dress to show she was sans panties under her pantyhose.
'Now, I'm going to tease you in my pantyhose and show them off from every singe angle and I want you to get your cock nice and hard for me.'
Sophia teasingly pinched the tight nylon of her pantyhose between her fingers and thumb and let it snap back against her legs, then stood in her heels and ran her hands up her legs in her shiny nylon hose.
'I love the way my pantyhose feel tight around my thighs and all the way up to my sexy arse cheeks,' she said encouragingly, bending over to show off her ass encased in tight nylon. 'Imagine rubbing your cock against my arse and feeling the nylon between us!'
Turning around she lifted up the front of her dress to show off her shaved cunt behind the nylon screen of her pantyhose; sliding her hands around her inner thighs and tracing her finger along the groove of her cunt sheathed in tight, sheer nylon.
Stripping off the dress, Sophia pulled the waist of her pantyhose up her front until they were stretched over her boobs and rubbed her nipples through the taut nylon. Then laying on the leather sofa she flung her legs wide open and teased the compressed lips of her pussy through the tight sheer nylon.
'That's it you rub your cock while I play with my pussy and get it nice an wet,' she said, slipping her hand down the front of her tights and rubbing the mound of her clit with circular motions of her fingers.
Sophia then ripped a hole in the front of her hose and tore it open to get at her pussy, inserting her fingers between the petals of her fleshy cunt lips that glistened with her wet juices.
'Imagine you putting your nice hard cock in my pussy now and pulling me onto you,' Sophia suggested excitedly as she fingered her gaping slit through the wide nylon hole that framed her cunt. 'I want you to fuck me like this and feel your hard cock slip between my wet pussy lips!'
Get our superb Vintage Flash newsletter each week - all the latest model info, updates, set preview pics and more!